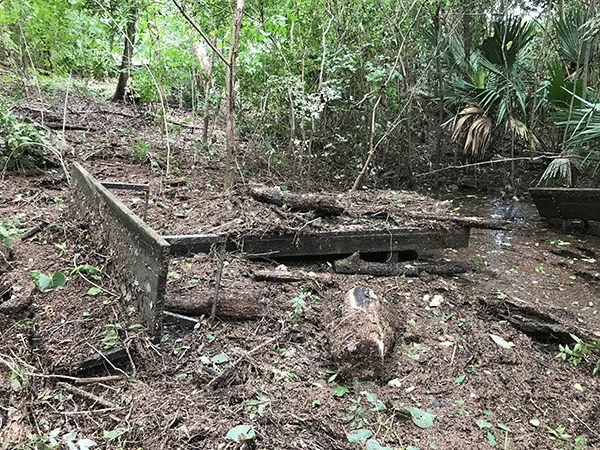 Houston Audubon's Sims Bayou Urban Nature Center is home to the organization's Education Department staff. The center sits on approximately one acre adjacent to Sims Bayou, just east of Hobby Airport. A cabin that's serves as office space and a barn that is used for education programming is located here. Fortunately, the buildings sit at a much higher elevation than the bayou and are a few feet above the top of the bank which is 26.2 feet.
At the height of the storm, Sims Bayou rose to 26.27 feet. This occurred on August 27 at 8:22 AM. In comparison, Sims Bayou during Hurricane Ike reached 18.7 feet on 9/13/08 and during Tropical Storm Allison reached 23.37 feet on 6/9/01. Alicia still produced the greatest rise in stream elevation at 28.47 feet on 8/18/83.
The biggest impact to the center was in the wooded area south of the buildings. This area slopes steeply to the bayou and is where our public trails are located. Thankfully new decks were installed after the old decked paths were destroyed in the Halloween floods of 2015. The new decks held firm as did the bayou overlook deck built in 2006. There are trees, limbs and trash scattered across the wooded area due to the water rise that will need to be cleaned up and thick mud caking the boardwalks and trails. The erosion on the upper trails from sheet flow across the upper portion of the property is even more intensified now. Benches have been moved and tipped over into the forest pond and will need to be hauled back to original locations and cleaned. Sections of an older boardwalk have separated and will need to be fixed. There was some water damage in the barn to some new carpeting that is being dried out at this time and logs on the upper story of the barn are soaked. There was also some standing water in a closet in the cabin that will need to be investigated as to the origin.
All in all, the sanctuary fared very well in extreme conditions and with some elbow grease and a little time it will fully recover.