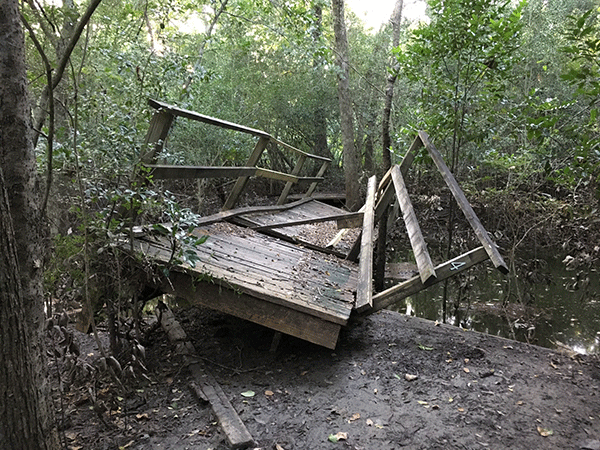 Edith L. Moore Nature Sanctuary is slowly drying out post Harvey. We are still very thankful the cabin and offices remained dry during our record-breaking floods. The Fondren Bridge is now almost 2 feet above the creek waters, and rebuild will resume Wednesday, Sept 6th. Trails are still under water past bridge 3 on the Creekside Trail (east side) and past the Hansel Gate on the McGarver Trail (west side). Rummel Creek has no flow due to backup waters from Buffalo Bayou releases. We expect these conditions to last into next week. Mosquito populations are quickly exploding and trails remain closed until further notice. Many boardwalks are unsafe and are upended or floating.
We have begun cleaning trails and removing trash and debris. The areas around the cabin and nursery are back in order thanks to staff and volunteer efforts this past weekend. Staff and volunteers have also been assisting our downstream neighbors with flood evacuations, house restoration work and trash hauling.
The Hansel Gate is locked to protect access to the still partially flooded Memorial Bend neighborhood.
The photo shows Bridge 4. We actually had it on schedule to replace this year - but now it has to happen much faster.