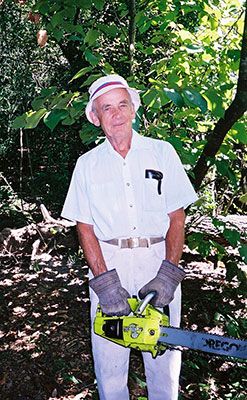 It is with great sadness that Houston Audubon mourns the passing of Aaron Stoley on Wednesday, August 16, 2017. Aaron may have been short in stature but he was a giant at Houston Audubon. A tireless volunteer who was always one of the first to answer the call whether it for clearing trails after a hurricane, tending native plants at the nursery, or mentoring new volunteers.
Aaron Stoley was named the 2007 Laura Singleton Outstanding Volunteer for his many decades of volunteering for Houston Audubon. As a lifelong birder, he cared that bird habitat is preserved and enhanced. He was at High Island after both Hurricane Rita and Hurricane Humberto, chainsawing and clearing brush, and serving as fire captain. Growing up on a farm in South Dakota during the depression, he learned to fix things with what you had available, which wasn't much. Consequently, he helped us with many mechanical repairs. Aaron never said no to any project at any location where he was asked to help. This includes building sheds, placing signs at Winters Bayou, working on the washout below the big pond at Edith Moore Nature Sanctuary, fixing all manner of mechanical equipment, volunteering to lead work groups, Christmas Bird Counts, clearing brush at High Island and at Sims Bayou Urban Nature Center. Aaron was a joy to work with. His stories made every workday fun. Aaron was treasured by all who were lucky enough to know him.
Rest in peace, Aaron.