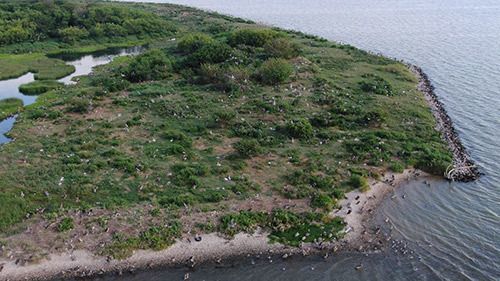 Houston Audubon finalized the purchase of two key land transactions at the end of 2020, placing an additional 643 coastal acres under permanent conservation protection.
After seven years of negotiations and persistence, Houston Audubon acquired 603 acres of coastal prairie, wetlands, and beach habitat in and surrounding High Island, TX from BP America. Habitat this close to the coast is especially important to the millions of migratory birds that breed, winter, and stopover to rest and refuel during migration. The long-range vision for this acquisition includes an interpreted Gulf Habitats Nature Trail that will connect Houston Audubon's Boy Scout Woods Bird Sanctuary to the Gulf of Mexico beach. The trail will pass through hundreds of acres of protected and restored land and provide examples of the diverse habitats presented in Houston Audubon programming. Forest, coastal prairie, freshwater marsh, high tidal marsh, low tidal marsh, and finally the beach and Gulf of Mexico will all be available to explore within a one-mile span. Thanks to Gene Graham and the Land Rescue Fund, Houston Audubon was positioned to pursue and complete this acquisition.
"Placing these acres under Houston Audubon's management and protection is a win-win for the surrounding community, the thousands who visit our region to discover and explore the diverse wilderness of the Upper Texas Coast, and future generations who will appreciate the importance of our coastal heritage," says Helen Drummond, Houston Audubon's Executive Director.
Houston Audubon was also gifted 40 acres of North Deer Island from Brown/Trueheart, Ltd. The 120-acre colonial waterbird island in West Galveston Bay has long served as the most important nesting island on the Upper Texas Coast, playing a major role in the recovery of the endangered Brown Pelican and providing safe nesting for 19 waterbird species. The late Henry Martyn Trueheart of Galveston acquired his 33% share of North Deer Island and it remained in the family for over 120 years, having been most recently held by Brown/Truheart Ltd. whose partners are all great-grandchildren of Mr. Trueheart. While Houston Audubon already owned a small percent interest (6%) in the island, this generous donation secures protection and management of a significant portion of the island. Together with National Audubon, 70% of the island is now under permanent protection.
"These two acquisitions are major conservation victories for the Texas Coast," says Dr. Richard Gibbons, Houston Audubon's Conservation Director. "The 603 acres in eastern Galveston County are comprised of several parcels adjacent to Houston Audubon's current sanctuaries and provide connectivity with the US Fish and Wildlife Service's McFaddin National Wildlife Refuge. Much of this land has been worked hard and we are excited to begin the restoration process to optimize these habitats for wildlife and people."
Houston Audubon has a strong commitment to protect the Upper Texas Coast now more than ever, with 76 percent of land holdings located on the Bolivar Peninsula in Galveston County. Sanctuaries include the globally significant Bolivar Flats Shorebird Sanctuary, Horseshoe Marsh Bird Sanctuary and four sanctuaries at High Island, perched atop a 28-foot salt dome that is well known as a retreat from storms and rising storm surge for over 300 migratory and resident bird species.
Established in 1969 as an autonomous, self-supporting chapter of the National Audubon Society, Houston Audubon Society's mission is to advance the conservation of birds and positively impact their supporting environments which it accomplishes through acquiring and maintaining critical habitat as bird sanctuaries, providing education programs and nature experiences for children and adults, and advocating policy and management actions in support of the mission. Houston Audubon owns and manages 17 nature sanctuaries encompassing 4,121 acres across the Greater Houston and Galveston regions and became an Accredited Land Trust in 2017.
Contact: media@houstonaudubon.org