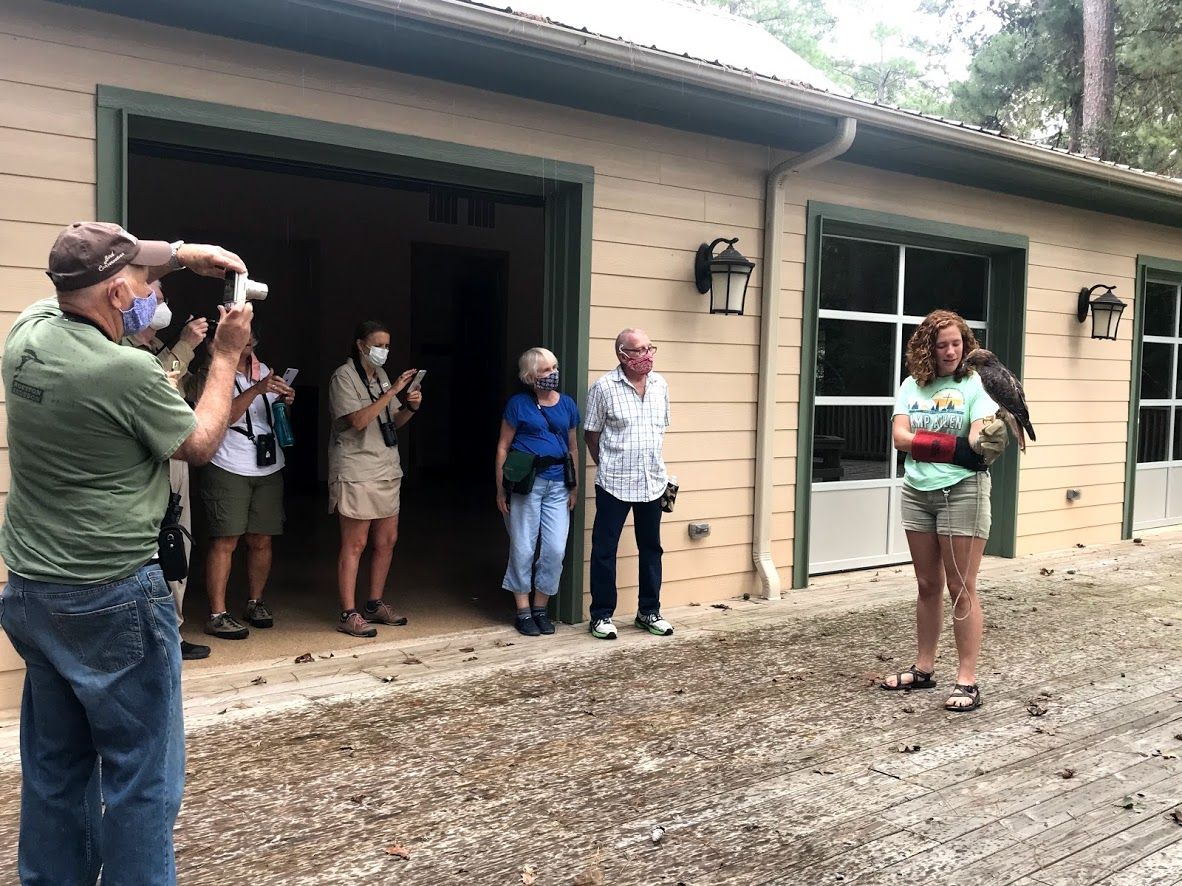 The Houston Audubon Senior Bus Trips are back up and running! Our first trip took our group to Navasota.
Our first stop was Camp Allen. Camp Allen is a ministry of the Episcopal Diocese of Texas. The 1,100 acres of forested land host an amazing array of bird species throughout the year and the woodland trails provided much needed shade on a hot day. The forest was alive with White-eyed Vireos, Blue-gray Gnatcatchers and Great Crested Flycatchers. The blue sky was the backdrop for the kettle of Broad-winged Hawks journeying south and lots of vultures as they caught the thermals mid-morning. Woodpeckers abound on the property and the group heard and saw Pileated, Red-bellied, Red-headed and Downy. After the morning hike everyone enjoyed a Mexican Fiesta for lunch at the conference center. It was delicious!
After lunch we visited with Lauren who works for the Discovery Program at Camp Allen and she introduced us to their Red-tailed Hawk Education Ambassador. Vice is a beautiful hawk and it was a special treat to meet her up close.
Our next stop was the BeeWeaver Honey Farm just 15 minutes away. The Weaver family has been in the bee business since 1888! A photo on the wall captured the moment the 9 hives arrived on their wedding day all those years ago. The bee hive tour was wonderful. Our tour guide was Roosevelt who has worked with the bees at the farm since 1966! After the tour we all enjoyed the honey tasting in the gift shop and many bought jars to take home. Right next door is the WildFlyer Meadery. This was our last stop for the day. The meadery uses the BeeWeaver honey to produce the mead and there were many varieties to sample and enjoy.
We look forward too many more adventures in the future. Registration is open and details are on the website.