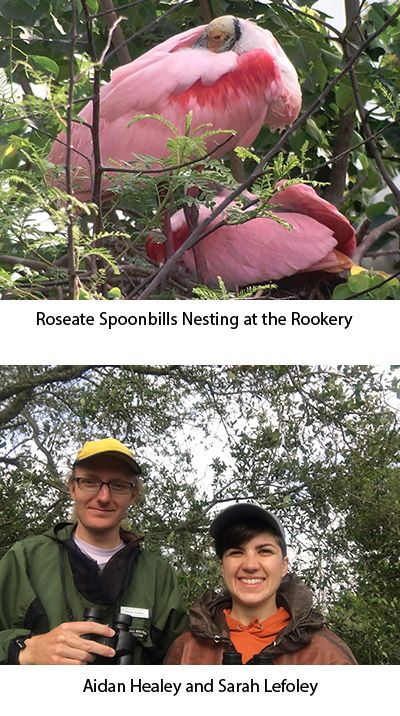 Each year we summarize a familiar spring migration, giving our best estimate of how many people made it to Houston Audubon's sanctuaries to discover and enjoy the miraculous migrations that wash over our region with waves of color and song.  Taking the state and county guidance into consideration, and assessing what staff could do safely, we made the unprecedented decision to close the sanctuaries to visitors so that we could do our part to flatten the COVID-19 curve and keep staff and visitors safe during the global pandemic.  The months of preparation, scheduled programs, and new workshops, as well as Tropical Birding and Houston Audubon-led bird walks, were all canceled.  
Of course the birds weren't the slightest bit concerned about our absence, and I suspect it was even a little more peaceful for them in the higher traffic areas such as Boy Scout Woods and Smith Oaks.  Houston Audubon quickly cobbled together some virtual programming to help ease the disappointment of the many birders, photographers, and nature lovers who were unable to make their scheduled trips to the Texas Gulf Coast.  
Conservation Technicians Aidan Healey and Sarah Lefoley rose to the challenge and broadcast live from High Island twice daily.  Program locations included a bird bath and drip and the rookery.  We received great feedback from members and friends who were grateful to have an escape from the news and the many days of lockdown.  Often, new challenges demand new solutions and although these live broadcasts weren't a replacement for the excitement, fellowship, and a hundred other things that birding is to us, it was a genuine gesture in the spirit of spring migration.
By the first of May, Texas was slowly reopening some parks and businesses and we decided to open the sanctuaries.  We waived entry fees, and encouraged all to safely venture out into nature spaces with kindness and consideration.  Volunteers and staff patrolled the trails and offered assistance.  The reality was that the pandemic was far from over and most stayed home or very nearby.  
The few intrepid travelers to the coast could see the Smith Oaks rookery with nest numbers not seen in many years.  The recent project to deepen the shallowest areas of Claybottom pond and to add the ability to manage water levels has exceeded our hopes with birds nesting on the original island, the new Claybottom Pond Island, and throughout the now-flooded forest.
What this historical event reinforced for many of us was our need for nature.  As our crazy busy schedules were decluttered down to the basics, our need for nature remained, and we found ways to connect in our own yards and nearby parks.  It also brought into sharp focus how much we look forward to the rhythm and melody of life coursing across the landscape, reminding us of a world worth fighting for and a community of volunteers and friends worthy of our gratitude. 

Bring on Spring Migration 2021!