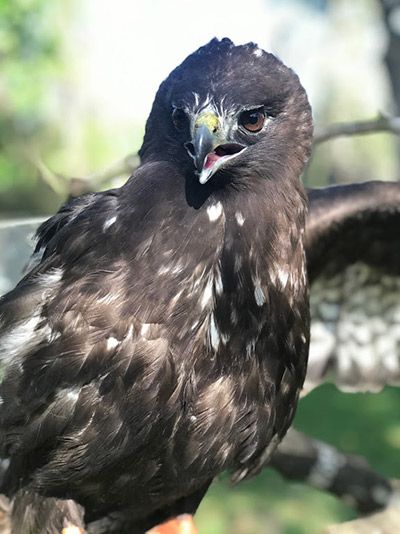 This past spring our family of Education Ambassadors grew.  The birds assisting us in our educational programming are typically birds that are found injured in the wild.  They have all gone through rehabilitation but are unable to be released for a variety of reasons.  On Thanksgiving Day 2019, a very unusual raptor was spotted in Billings, Montana.  It was a badly injured dark-morph Harlan's Red-tailed Hawk.  He was rescued and went through rehabilitation including surgery on his injured wing at Ironside Bird Rescue in Cody, Wyoming. 

He was named Standish because he was found on Thanksgiving Day.  When he was found, it was discovered he was missing part of his wing.  Perhaps he had been hit by a car or he had hit some powerlines.  The surgery cleaned up his wound, but he can no longer fly.  He was sent to Houston Audubon's Raptor and Education Center and has been busy helping us teach ever since. 

We are very fortunate to be able to showcase three different colorations of Red-tailed Hawks at the center.  When you visit you will see a rufous-morph western Red-tailed Hawk, light-morph Harlan's and a dark-morph Harlan's. 
Shortly after Standish arrived, we were notified that a rufous-morph Eastern Screech-Owl was in need of placement from the Friends of Texas Wildlife in Magnolia.  Pierre was found on January 26 after being hit by a car.  He suffered a major eye injury and the right eye could not be saved.  

Thanks to the great work by the folks at Friends of Texas Wildlife, he was rehabbed and now is a great companion to Percy, our gray-morph Eastern Screech-Owl.  Percy happens to have sustained a permanent injury to his left eye so they are a great duo. 
In addition to the birds we take care of at the raptor center, we also have a handful of other animals to help us teach.  These include some snakes, a large toad, a turtle, and now a very special opossum.  She has become quite a star of our programs.  Her name is Miss Violet Pickles.  We call her "Pickles" for short.  She has metabolic bone disease and a cross bite that deem her non-releasable.  She was rehabbed by the great folks at Texas Wildlife Rehabilitation Coalition in Houston. 

Opossums are the only marsupials found in North America.  The Virginia Opossum has an incredible immune system.  They are largely immune to rabies, although it can rarely occur.  They're also largely immune to venom from snakes like cottonmouths and rattlesnakes.  They are a beneficial member of the food web and help to control the spread of diseases by eating lots of ticks.  Opossums originated in South America.  Pickles is a great addition to our program about our connection to the Amazon and our WILD about Texas show.  Stop by the center to meet and fall in love with Pickles. 
On May 4 as considerations for reopening were being discussed, a special discovery was made at the raptor center. While performing the daily cleaning routines for our homing pigeon flock, an egg with a tiny pip was found.  The egg was cold and abandoned.  A quick decision was made to warm up the tiny bundle and see what would happen. 
Six hours later, Corona Covid hatched into the world.  She has grown up fast under the special care of the education team and has won the hearts of many. 

Corona will be another great education ambassador especially when we teach about what happened to the Passenger Pigeon and how non-native species end up in new areas of the world.
The photo is of Standish. Find photos of all our new ambassadors on the related blog post Adopt a Bird page.