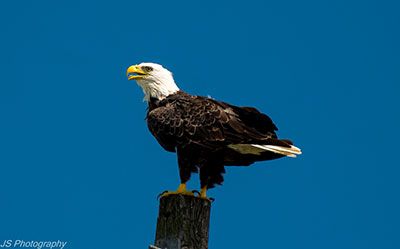 These incredible photos were taken at Archbishop Fiorenza Park Phase 2 just a few days before the July 4th holiday. Yes, our national symbol is alive and well in our big city.
About 10 years ago Houston Audubon's Education Director started receiving photos of eagles at a detention pond along Eldridge. Upon further investigation and numerous visits it was clear that the county was developing a great park for all to enjoy. Then about 6 years ago we began to hold regular bird surveys at the park. As the group would make its way around the parks trail system they would regularly bump into "James" who was looking for eagles to photograph. James was more than willing to show us his eagle photos and let us know where and when he had last seen them.
James also quickly became interested in what we were looking for. He then began to look for not just eagles but all the other birds that can be found at the park. James lives near the park and was recently retired. It didn't take long for James to start discovering the amazing array of species in the park. We helped him identify the first few albums of birds he was documenting but pretty quickly he became an expert all on his own.
Visiting the park almost every day, he has helped to document the over 225 bird species that have been found on park property. It wouldn't be a bird survey now without James helping us spot the birds and of course the eagles!
Join us for one of the bird surveys at the park or take the time to visit yourself. You will not be disappointed and you know you can always look for James and his camera to point you in the direction of the eagles.