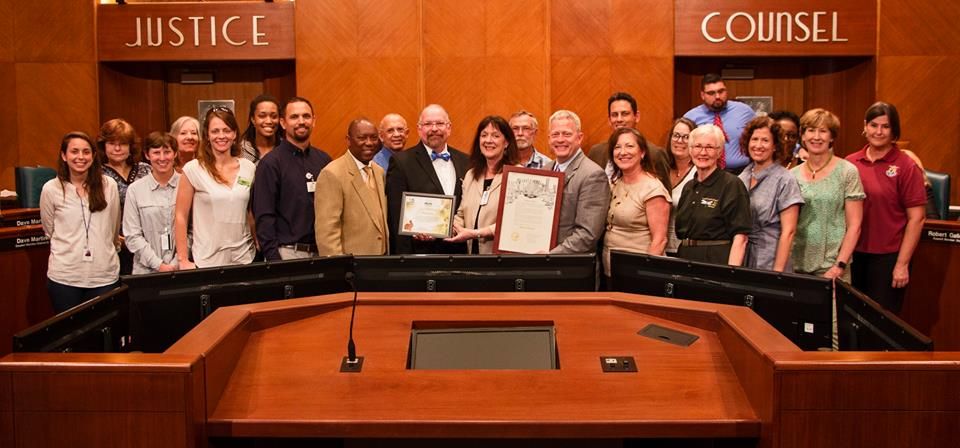 On April 18, 2017, Houston celebrated its newly achieved status as the 100th community to certify through the National Wildlife Federation's Community Wildlife Habitat™ program. Houston Mayor Sylvester Turner recognized this accomplishment by proclaiming April 18, 2017, as Wildlife Habitat Day in the City of Houston during the City Council meeting.
This certification was made possible through a combination of public and private efforts, and Houston Audubon is proud to be a partner of HPARD in this work. In addition to the nearly 1,000 citizens' homes, schools and common areas in Houston that have been certified as wildlife habitats, the Houston Parks and Recreation Department (HPARD) has identified 80 parks with 16,000 acres of land as having natural areas.
Front row left to right: Cassidy Kempf, HPARD SCA intern; Kelly Shields HPARD SCA intern; Julie Mintzer, Rebuilding Together Houston; Jed Aplaca, HPARD Natural Resources Manager; Houston Mayor Sylvester Turner; Kevin Coyle, Vice President, Education Programs National Wildlife Federation; Susan Kaderka, Regional Executive Director NWF; Council Member David W. Robinson At-Large Position 2; Lisa Johnson, Interim Director Houston Parks and Recreation Department; Virginia Livingston, Texas Master Naturalist; Sarah Flournoy, Houston Audubon; Vaughn Phillips, Texas Master Naturalist; Nancy Brown, US Fish and Wildlife Service.
Second row left to right: Mary Van Kerrebrook, NWF board member; Holly Thornson, Houston Wilderness; Lauren Harper, Houston Wilderness; Abel Gonzales, HPARD Deputy Director Greenspace Management Division; TJ Marks HPARD, Greenspace Management Division; Jaime Gonzales, Katy Prairie Conservancy; Marsha Towns, Student Conservation Association; Charlotte Lusk, HPARD Greenspace Management Division.