Galveston Bay Coastal Spine
Houston Audubon is committed to protecting our coastal sanctuaries, and we believe any major infrastructure project along the coast must incorporate a thorough study of ecological impact.
We have prepared a statement for the U.S. Army Corps of Engineers (see below) in response to its Coastal Study for a barrier system that runs 70 miles along the Upper Texas Coast, sometimes referred to as the Coastal Spine or Ike Dike.
Photos and links to help you understand the Coastal Spine project and concerns expressed by the environmental community.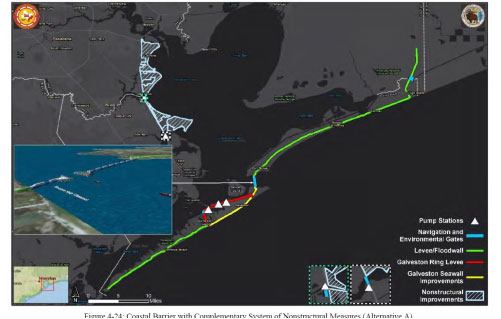 Full address and suggested wording for emailing a comment. Comments are due to the Corps on February 8, 2019.

Official notice that the deadline for comments has been extended until February 8, 2019.

News release dated December 11, 2018 written by Timothy H. White, Board President, and Helen E. Drummond, Executive Director. Comments are organized into 9 points.

Response to Coastal Barrier Alternative. Environmental and Conservation Groups Raise Concerns About Current USACE Plan.

Galveston Bay Foundation tweet containing a 1-minute video from Fox News 26 about an information session on the coastal spine project.

Houston Chronicle article dated December 14, 2018. The perspective from Bolivar residents' point of view.

Opinion article in the Galveston County Daily News, December 10, 2018, written by the Turtle Island Restoration Network and supported by Houston Audubon. (PDF)

The official page containing the study and specifics on where to send comments.

A new website has been created in January 2018 for the Coastal Texas Study. This is a joint effort by the U.S. Army Corps of Engineers in partnership with the Texas General Land Office.

An article written by Helen E. Drummond, Executive Director, detailing the history, timeline and next steps. Written in late 2017. Contains links to key information.