Volunteer at the Raptor and Education Center!
Community Workdays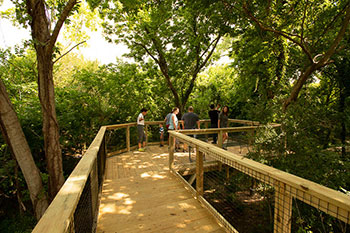 Join us at the Raptor and Education Center at Sims Bayou for a morning of gardening and sanctuary maintenance. We work 9 AM – 12 PM, once a month on the 3rd Saturday, March through May.  Activities include trail maintenance, filling bird feeders and baths, litter pick-up, native gardening, and invasive species removal. It's a great way to enjoy the outdoors and meet like-minded friends! Bring water, sunscreen, bug repellent & gloves/clippers if you have them. Wear closed-toe shoes & long pants. Bring sack lunch if desired. Children of any change are welcome with their parent/chaperone. (Minimum age without a parent/chaperone is 14 years.) There is a maximum number of 15 participants at a workday.
If you have any questions, please contact Trey Morris, tmorris@houstonaudubon.org. Sign up by using the link below.
---
Visitor Services
Tasks include greet visitors and selling shop merchandise. We currently need volunteers who are able to work on Wednesday, Thursday, or Saturday. Please contact Juanita Perkins at jperkins@houstonaudubon.org to sign up.
Gardening
Help us maintain our bird-friendly gardens! Many of our plants are chosen for hummingbirds and butterflies. Please contact Trey Morris at tmorris@houstonaudubon.org for more information.