Past Award-Winning Volunteers
---
Doris Heard - Laura Singleton Exceptional Volunteer for 2018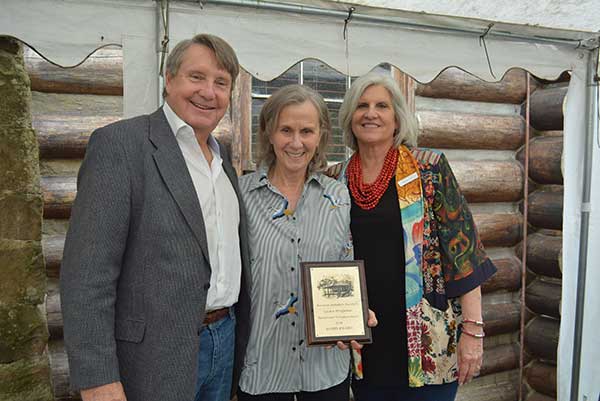 Tim White, Doris Heard, Juanita Perkins
Presentation by Volunteer Coordinator Juanita Perkins at the Volunteer Appreciation Picnic, February 16, 2019
Doris Heard has been an active member of the Houston Audubon Board of Directors since 2013. She accepted the position a bit reluctantly … when asked to join, she first said "No, she didn't like meetings". Fortunately for us, she eventually accepted the board position and Doris has done so much more for Houston Audubon than just attend meetings!
She's been particularly busy this past year serving as a gala co-chair, actively participating in bird surveys and environmental education programs, and being an active member of the Bird-Friendly Communities Committee. 
To quote from one of the nominators:
Doris is a trusted friend and colleague. She is soft-spoken, yet tough. She has spent decades working on wildlife habitat improvements, and she willingly shares her expertise with that humble Doris style and smile. 
Doris is both wonderfully kind and fiercely committed. She has a vision for Houston where birds are abundant and where children can delight in nature as a regular part of their days. What really makes Doris stand out, though, is that her vision is matched with real time spent accomplishing challenging objectives that have significant results. Whether it is coordinating planting days, identifying new volunteers, designing and sharing beautiful printed resources, filming videos to educate and inspire, or even providing encouraging words at the end of a hard day, Doris understands the multi-faceted challenges and opportunities of our urban greenspace and works actively to address them.
Doris worked relentlessly for the Birds, Bugs and Blooms gala this past year, serving as co-chair, attending more than a few of those dreaded meetings, signing hundreds of letters with special notes encouraging people to attend, and designing 30 original breath-taking centerpieces that took months of hard work, including driving all around the city until she found just the right twig or bloom or blade of grass so that she could arrange the right combination of birds and bugs on branches - the results were truly beautiful!
Someone who worked closely with Doris on the gala had this to say:
Doris went all out for Houston Audubon to help make the gala a success. And she did it with a smile on her face and optimism in her heart. She is always humble and will perform any task needed to make a project successful. She is always advocating for Houston Audubon, even to other groups that she is involved in, and truly has our mission in her heart. 
And, humorously, one nominator submitted: it should also be mentioned that Doris makes the most delicious brownies from scratch.
For all of the reasons above, including the brownies, it was certainly our honor to recognize Doris Heard as the 2018 Laura Singleton Exceptional volunteer recipient.
---
Julie d'Ablaing - Laura Singleton Exceptional Volunteer for 2017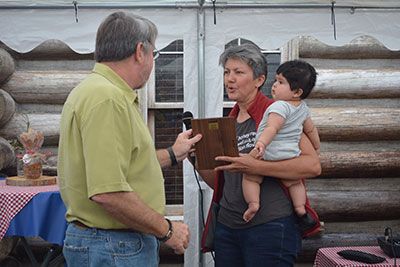 Tim White, Julie d'Ablaing
Presentation by Board President Tim White at the Volunteer Appreciation Picnic, February 17, 2018
Today, it gives us great pleasure to recognize this year's recipient - the person who is largely responsible for those 4,500 plants being sold from the Natives Nursery – Julie d'Ablaing.
Julie certainly embodied all of the criteria for the award.
In the past years, Julie has contributed a tremendous amount of time helping Houston Audubon grow the Natives Nursery. She has not only faithfully attended Friday workdays, but she has spent countless hours gathering seed, planning for growing out plants, emailing clients, and communicating with staff and volunteers
It is hard to capture how much it takes to talk to people about the plants in the Nursery. Julie is very knowledgeable about native plants and what it takes to grow them. Add in the layer of managing inventory in a nursery, and the conversations become more complex. When customers contacted Houston Audubon to place an order, Julie has the expertise and savvy to speak to them about what they ordered or what they might substitute. Julie developed meaningful partnerships with many people.
Julie was already active in the nursery when Flo Hannah became ill. It was obvious to all that Julie decided she could most support and honor Flo by keeping the Natives Nursery prosperous. She did much to figure out what that would take – collecting seed, planting, bumping up plants, watering, weeding, and more.   
Julie has marshaled the troops.She has led the Natives Nursery volunteers and they have responded. The mutual respect is obvious.
So, it is with great pleasure that we present this year's Laura Singleton Award to Julie d'Ablaing. From all of us, thank you, Julie!
---
Ben Hulsey - Laura Singleton Exceptional Volunteer for 2016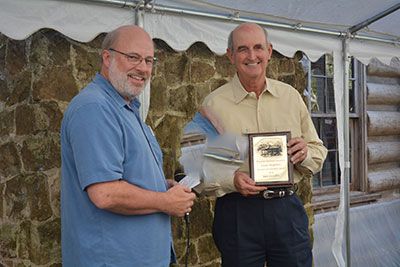 John Bartos, Ben Hulsey
Notes from Board President, John Bartos at the Volunteer Appreciation Party, February 18, 2017
I am pleased to announce that the recipient of the Laura Singleton Award for 2016 is Ben Hulsey.
Houston Audubon was indeed fortunate when Ben Hulsey discovered the wonderful world of birds nearly a decade ago. His leadership skills as a Houston Audubon Board member and officer for the past eight years have been far reaching and his commitment to the success of the organization has been unwavering.

Ben brought to the Board: his leadership skills, his altruism, his generosity, his photography skills, his financial skills, his strong support for education and conservation, and his ability to engage and involve others in the Houston Audubon mission. Some examples of Ben's contributions:

Ben has served for eight years on the Board of Directors of Houston Audubon. It has been two years as a Board member and six years as an officer, including two years as President.
The Conservation Department was able to acquire a truck as arranged and partially funded by Ben. Also, after many years of waiting, an appropriate vehicle, the Birdmobile, was obtained for the Education Department by Ben. Each of these vehicles is a significant aid to these departments. When we needed a boat to inspect our off-shore properties and conduct surveys on Evia Island Ben made that happen. Our boat is named "the Mary Gwen."
Ben has regularly assisted with monthly bird surveys – Hermann Park, Archbishop Fiorenza, Hogg Bird Sanctuary, and Willow Waterhole. He assists in leading, identifying, counting, and in recording the species identified. At Hermann Park he has photographed every bird found in the park on a survey and posted it in the gallery on the Houston Audubon website.

Ben also generously gives of his time to lead bird walks for other organizations Since he isn't intimidated by being with a gaggle of women, he has led quite a few walks for The Garden Club of Houston members, and as a result, has helped to expand the club's knowledge, activities and commitment to the conservation and preservation of birding habitat. Many of these ladies regularly email photographs of birds that they see on their property, and he always graciously identifies the birds for them. Ben even managed to organize The Garden Club of Houston Birdathon team, "Hogg Heaven", that spent the day at Hogg Bird Sanctuary counting birds with him.
Ben has a talent for recruiting and involving people who have become significant supporters of Houston Audubon.
Ben and Mary Gwen's philanthropic support is broad reaching. They have opened their home and hosted appreciation/information parties as well as hosting prospective members at their Gala table. They are also generous with the recently purchased house in High Island.
He is currently serving on the Gala Committee and is an invaluable resource. In fact, the past several years, Ben has made, arranged for and donated the framed photography awards Houston Audubon gives at its annual gala.
Ben is currently chairing the Committee for the Edith L. Moore Nature Sanctuary Master Plan, leading the efforts to carefully consider improvements to the property and the visitor experience.
Ben is not afraid to get his hands dirty either. He regularly participates at the High Island workdays.
These are just some of the things that Ben has done for Houston Audubon. He often keeps a low profile and prefers being anonymous. However, the time, energy, passion and resources that he has put into Houston Audubon is not unnoticed and is greatly appreciated.
Some years ago, several of us felt that Houston Audubon was primed to move to the next step in its life as an important environmental organization. Ben took that charge and ran with it and the results have been extraordinary. I have been honored and grateful to follow in Ben's footsteps as President. From all of us, thank you Ben. I am proud to present the Laura Singleton Award.
---
Mary Carter - Laura Singleton Exceptional Volunteer for 2015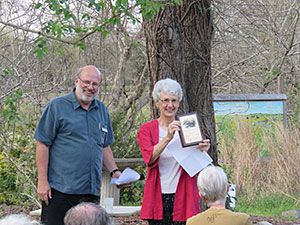 Mary Carter with Houston Audubon President John Bartos
At the Volunteer Appreciation picnic, held February 13, 2016, Houston Audubon President John Bartos presented the 2015 Laura Singleton Award to Mary Carter. John explained how Mary exemplified all of the traits that we honor with the Laura Singleton Award. Mary's time commitment is evident in the fact that since she started volunteering in 2003 as a board member, she has served as president-elect and president from 2009-2013, has served as VP of the Environmental Affairs committee, and presently is chair of both the Advocacy Committee and Land Trust Accreditation Committee. She also works in the Natives Nursery and participates in Birdathon.
Executive Director Helen Drummond commented on Mary's effectiveness as chair by saying, "Mary's commitment, legal background, and knowledge about land conservation have been invaluable to this process. We are fortunate to have Mary lead this effort. She has a quiet disposition but is very effective at galvanizing support to get things done. She is such an asset and joy to work with." We are very fortunate to have Mary share her spirit of volunteerism with Houston Audubon. Staff member Flo Hannah works with Mary in the Natives Nursery and wrote this when nominating Mary for this year's Laura Singleton award: "I have worked with Mary for well over a decade. She has given her time and expertise to Houston Audubon as an advisor, board member, board president, and volunteer. Houston Audubon and I have gained so much, but the best part is having gained a loyal and very funny friend. I personally hope she never, ever plays poker; her face is an open book. She laughs, cries, frowns, scoffs and scowls at anything that opposes good conservation for birds and their habitat. As an organization, we could not have asked for a wiser or more dedicated advocate." From all of us, thank you Mary!
---
Laura Singleton Exceptional Volunteers
2019Karen Hoffman and Lester Pearce

2012Judy Boyce and Martha Wright

2011Jim Winn and Jennifer Lezak

2010Sara Bettencourt and Pam Smolen

2009Joy Hester and Don Verser

2008Hurricane Ike Cleanup Volunteers

2007Barbara Tilton and Aaron Stoley

2004Susan and Brad Billetdeaux, Don Gray

2003Peggy Boston and Betty Keith

2002Marjie Pierce and John Miers