Volunteer Receptionists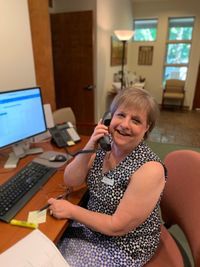 Houston Audubon Headquarters, Edith L. Moore Sanctuary
1 day per week
6 month commitment 

We are looking for volunteers who can help us out in our headquarters at the Edith L. Moore Nature Sanctuary one day a week from 10am-3pm.
Houston Audubon receives a WIDE variety of calls on everything bird-related you can imagine, so we need someone with an interest in learning as well as strong customer service skills.
The Volunteer Receptionists will be responsible for answering the phone and routing calls, checking voicemails, greeting guests that come into the headquarters, getting coffee and water for meetings and organizing handout materials. There will be the opportunity to take on other projects and learning opportunities depending on the interests and skills of the individual volunteers.
This is a great volunteer opportunity if you love birds and want to support their conservation but do not want to spend time working outdoors.
If you would like to volunteer in this capacity please email volunteer@houstonaudubon.org