Visitor Experience Volunteers at the Raptor Education Center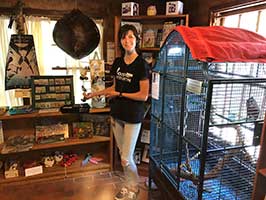 Raptor Education Center
Group Training and Orientation: 
Wednesday, October 30th, 9am - 11am
Available shifts:
Wednesdays, 10am-1pm or 1pm-4pm
Thursdays, 10am-1pm or 1pm-4pm
Saturdays, 10am-1pm or 1pm-4pm
(Schedule is flexible within these shifts, so a person could volunteer once a month on a Saturday morning, weekly, or every other week)
Hang out with our Birds of Prey, enhance visitor experiences, and ring up gift shop merchandise in support of our educational programs and conservation work. Many shifts available. Great if you love birds and the outdoors but would prefer that your volunteer time be spent protected from the elements.
To sign up for this volunteer role please email Lauren Miheli at volunteer@houstonaudubon.org