Native Nursery Team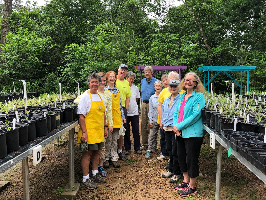 Edith L. Moore Nature Sanctuary
Fridays, 7:30am-11am
Every Friday morning volunteers (ages 15 and up) work in the Natives Nursery separating seedlings and bumping up wildflowers and grasses into 1-gallon containers. The plants are used in coastal prairie restoration projects or are offered for sale in support of the Bird-Friendly Community program.
The group takes a snack and social break each morning and a shade tarp is put up and fans are out to keep everyone comfortable as work takes place in the sunlight and heat. 
This is a great opportunity if you want to learn more about native plants or if you just like gardening and getting your hands dirty.
If you would like to join the Friday morning volunteers, contact Lauren Miheli at volunteer@houstonaudubon.org