High Island Spring Migration Kiosk Support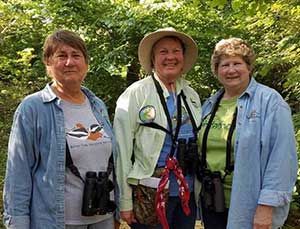 March 26th - May 3rd
Volunteer Training and Picnic on Saturday March 27th
High Island Sanctuaries: Smith Oaks and Boy Scout Woods
For Houston Audubon Spring Migration means all hands on deck! This is an exciting and intense period where dedicated volunteers are crucial to our success in providing visitors with a positive experience and connecting them to our mission.
Kiosk Volunteers are stationed in 4 key places around the sanctuaries to collect admissions, sell patches and merchandise, provide information including recent bird sighting locations to visitors, and guide folks at the birding scope on what they are seeing.
We are looking for volunteers with:
Knowledge and appreciation of birding
The desire to support Houston Audubon and our mission
Attention to detail
A willingness to learn about local and migratory birds and local parks, nature centers and wildlife refuges in the Houston/Galveston region
Flexibility; ability to work with minimal direction
Friendly and helpful attitudes when dealing with colleagues and the public
Comfort with cash and credit card transactions
Willingness to comply with COVID safety protocols 
Able to volunteer on a regular basis a plus.
Spring Migration at High Island officially starts with a training and social picnic on Saturday March 27th and continues until May 3rd.
If you would like to help out please email Lauren Miheli at volunteer@houstonaudubon.org for more information