Habitat Hawks at Edith L. Moore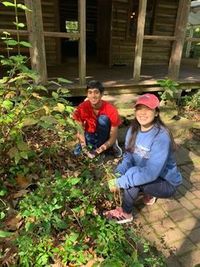 Where: Edith L. Moore Nature Sanctuary
Time commitment: 3-10 hours per month for 6 months 
Training: Saturday, September 12th, 7:45am - 1pm 
If you've ever dealt with weeds or invasive plant species you know it is a continual effort to remove them. In order to reduce the amount of weeds at the sanctuary we are looking to activate about a dozen volunteers who will each commit to volunteering one morning a month focusing on a specific problematic plant in the sanctuary. 
Training on plant identification and removal techniques, as well as an inaugural work party hosted by local Boy Scout troops will be held on Saturday, September 12th, from 7:45am-1pm. After that volunteers will work independently on their own set schedules returning to the sanctuary about once per month for a few hours to continue the work that was started. The goal is to look back after 6 months and see noticeable progress in creating space for natives and habitat for our birds, mammals and herps!  
We ask all volunteers in this role to commit a minimum of 6 months in order to produce the best results.  
If you are interested in joining the Habitat Hawks please sign up here!