Edith L. Moore Nature Sanctuary Stewards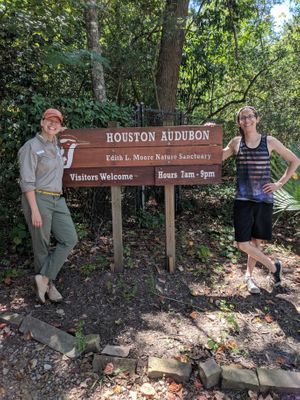 Saturdays and Sundays, February and March 
The secret is out! The people of greater Houston have found our beloved nature sanctuary and our quiet little walk in the woods has become a bit of a local destination. New visitors aren't familiar with the difference between a nature sanctuary and a public park, so we are looking for volunteers who believe in our mission, and enjoy interacting with the public, who can connect with these first-timers and teach them what it means to enjoy nature while being a good steward of the habitat.
Volunteer Sanctuary Stewards will sign up for 3 hour shifts working in teams of 2-3 during our weekend hours, will receive hats and name tags to identify them as Houston Audubon volunteers, and will be trained and supported by the Sanctuary Manager. They will be asked to interact with visitors, monitor parking lot and direct traffic on Wilchester, report on things such as what questions people asked, how many visitors they counted, as well as complete small maintenance tasks like refilling toilet paper.
This is a new and immediate need, so if you are available to help out, please email Lauren Miheli at volunteer@houstonaudubon.org today!