Bird Friendly Communities Organizer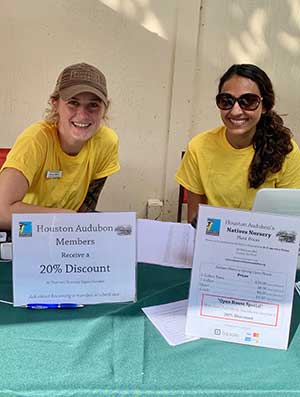 Edith L. Moore Nature Sanctuary
March - May 2020, 10 hours per week time commitment
Houston Audubon's Bird Friendly Communities is an initiative that aims to transform greater Houston into a place that supports a thriving community of birds and provides more opportunities for people to enjoy the diversity of birds that can be found in our region. We are seeking a volunteer with a strong sense of organization and attention to detail who can coordinate native plant sales in support of this initiative. Tasks will include managing all communications related to the plant sales, labeling and organizing plants, preparing for and running the spring native plant sales, and more. Time commitment is 5-10 hours per week from March - May. This is a great opportunity to have a meaningful impact for our feathered friends and to work with a great team at Houston Audubon, where you can learn a lot about native plants and birding. This project also has potential as a college internship.
For more information about Bird-Friendly Communities, take a look at this page.
If you are interested in taking this on please email Lauren Miheli, Volunteer Coordinator with a brief introduction including why you are interested in volunteering in this capacity and your relevant skills.