Volunteer at Edith Moore!
Community Workdays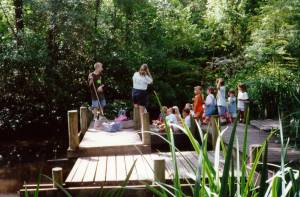 Join us at the Edith Moore Nature Sanctuary for a morning of gardening and sanctuary maintenance. We work 9 AM – 12 PM, once a month on the 4th Saturday from September through May (3rd Saturday in November and December).  Activities include trail maintenance, filling bird feeders and baths, litter pick-up, native gardening, and invasive species removal. It's a great way to enjoy the outdoors and meet like-minded friends! Bring water, sunscreen, bug repellent & gloves/clippers if you have them. Wear closed-toe shoes & long pants. Bring sack lunch if desired. Children of any change are welcome with their parent/chaperone. (Minimum age without a parent/chaperone is 12 years.)
All volunteers must pre-register by the Wednesday before workday by writing docent@houstonaudubon.org.
Stream Team Workdays
We are hosting Stream Team Workdays on the 4th Saturday of the month, once per season. We focus our efforts on eradicating invasives, removing litter, surveying for macro-invertebrates, and planting natives along the banks. We are working with the city on water quality testing. These workdays are for adults only (at least 18 yrs. old).
All volunteers must pre-register by the Wednesday before workday by writing docent@houstonaudubon.org
Tuesday Trail Crew
The Tuesday trail crew at Edith Moore Nature Sanctuary meets from 9 AM until noon every Tuesday year-round. Trail crew projects include everything under the sun, including boardwalk construction and maintenance, trail trimming and privet/ligustrum removal. Please contact docent@houstonaudubon.org to sign up. The Tuesday Trail Crew is for volunteers 15 years of age and older.
Natives Nursery
Every Friday morning Houston Audubon volunteers (ages 15 and up) work in the Natives Nursery at Edith L. Moore Nature Sanctuary, separating seedlings and bumping up wildflowers and grasses into 1-gallon containers. The plants are used in coastal prairie restoration projects or are offered for sale in support of the Bird-Friendly Community program. If you would like to join the Friday morning volunteers, contact Anna Vallery at avallery@houstonaudubon.org.
Grow Out Native Plants for Houston Audubon
The biggest roadblock to coastal prairie restoration is the lack of available native plant material specific to the Upper Texas Coast. We collect native seed all summer and fall and are asking individuals to propagate the seed at home for restoration projects.
I hope you will join in this fun, important wildlife enhancement project. Full instructions on native plant germination are available at the Coastal Prairie Partnership website. Jaime Gonzalez has prepared a Coastal Prairie Plant Growers' Handbook, available on that site, which explains everything about seed collecting and propagating. Once your plants germinate, and are hardy enough to bump-up to 4" or 1-gallon containers, you can join us at a potting-up work day, or drop off the seedlings and we will do the rest. The plants will be used in one of our many restoration projects. We encourage you to retain some of the native plant material for your own backyard, helping to create a wildlife corridor throughout the Houston-Galveston region.
If you would like to help grow out native plants, collect native seeds, or participate in Houston Audubon planting events, please contact Anna Vallery at avallery@houstonaudubon.org.
Audubon Docents
The Audubon Docent Guild is a group of volunteers who lead environmental and conservation programs at Edith Moore Nature Sanctuary. Docents lead guided tours of the sanctuary, weekly nature story hours for preschoolers, nature festivals, scout workshops, children's nature-theme birthday parties, night-time owl prowls, summer nature camps and science outreach programs in school classrooms and public libraries. Docents also assist Houston Audubon' s conservation programs including the Tuesday Trail Crew, workdays, the Houston Audubon annual gala, and other restoration efforts and special events. Volunteer schedules are flexible and involve both weekday and weekend opportunities for exploring nature with Houston's kids. Contact docent@houstonaudubon.org for more information. We'd love to have you join our group!
Office Volunteers
A variety of volunteer opportunities exist at our administrative office at Edith Moore Nature Sanctuary. For more information, please contact Juanita Perkins, telephone 713-932-1639.