Harvey Recovery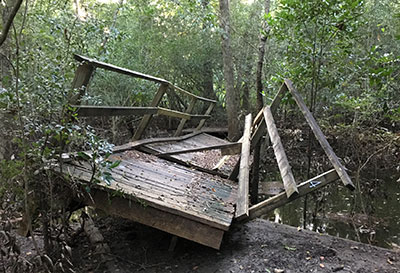 Bridge No. 4 at Edith Moore after Harvey
Thank you to all those who have reached out to us with your calls, notes and inquiries regarding Houston Audubon during this devastating and challenging time caused by Hurricane Harvey. We have a long recovery ahead as a city and a community. Our urban sanctuaries were impacted the most by the storm, but the damage is reparable with care and hard work.
How You Can Help
Workdays
Several workdays have already been scheduled, and we anticipate holding more. Please see specific listings for details.
Donations
We are in need of financial contributions to help offset repair costs. Edith L. Moore Nature Sanctuary suffered damage to its network of boardwalks and trails. Until floodwaters recede at the sanctuary, we are unable to estimate the extent of the repair work which will be necessary. Several trees have also been toppled. The barn at Sims Bayou Urban sustained some water damage. Further details about the sanctuaries are found in the status reports listed below.
Sanctuary Status Updates
Edith L. Moore Nature Sanctuary has limited access. Please visit the Edith Moore page for details. The water on Bolivar Peninsula is NOT safe for drinking. If you visit Bolivar Peninsula, please bring your own water. The bathroom at Boy Scout Woods is closed and the drips are not operating.