Winnie Burkett Sanctuary Intern Fund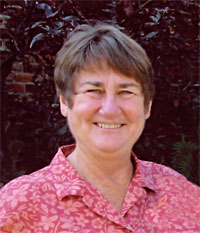 Donate to the Winnie Burkett Sanctuary Intern Fund >>
After 14 years of employment with Houston Audubon, Winnie Burkett retired as Sanctuary Manager on May 31, 2011. Winnie has been a tremendous asset to the organization and has served in so many capacities it is impossible to recount all of her attributes and contributions. Fortunately for us, Winnie promises to remain an active volunteer at High Island and on the Bolivar Peninsula. To honor Winnie in a special way, Houston Audubon has established the Winnie Burkett Sanctuary Intern Fund. We invite you to help us praise her tireless conservation efforts by contributing to this fund and furthering her efforts to introduce young people to the challenges and rewards of land management and habitat conservation. This fund helps support the work of our conservation technicians on the coast.
When Winnie and her family moved to the Houston area in 1991, she immediately became a sanctuary volunteer for Houston Audubon. Recognizing her ability, the organization elected her to the Board of Directors as Vice-President for Sanctuaries where she served four years (1993-1997). This was a critical time of expansion for Houston Audubon—acquiring Bolivar Flats and adding acreage at High Island. Managing the new acquisitions was a significant challenge, and Winnie was persuaded to become Houston Audubon's first Sanctuary Manager in 1997.
For 14 years Winnie shepherded Houston Audubon's land stewardship program. Some of her major undertakings include:
Adding over 2,000 acres of valuable coastal habitat to the Houston Audubon sanctuary system including 1,100 acres to Bolivar Flats, 650 acres to Horseshoe Marsh, 350 acres to Mundy Marsh and the addition of 80 acres to the High Island Sanctuary System
Lengthening and strengthening of the vehicular barrier at Bolivar Flats
Holding responsibility for extensive habitat restoration and visitor access improvements in Houston Audubon's High Island sanctuaries
Initiating the $3 million Protection and Restoration of North Deer Island Project
Planning and managing the habitat creation for the Port of Houston's Evia Island, the first dredge material island in the nation built for birds
Participating in negotiations to set up Wind Farm Siting Guidelines for Texas (an effort which unfortunately failed).
Assisting in establishment of the Gulf Coast Bird Observatory where she was an early board member
Forming of alliances with numerous governmental agencies, nonprofits, conservationists, communities, and businesses.
In addition, Winnie supervised and led the clean-up and restoration of Houston Audubon's coastal sanctuaries after hurricanes Rita, Humberto, and Ike. Hurricane disaster recovery required immense dedication and the ability to implement immediate response efforts. These were daunting challenges, especially when she was also facing personal disaster recovery on the home front. Winnie spearheaded the recovery effort for Houston Audubon, bringing together a group of truly dedicated volunteers and staff to tackle the monumental tasks. Many of the sanctuary volunteers have formed a special bond with Winnie as her passion for birds and habitat protection has been and is infectious, energizing those who have worked with her in the sanctuaries. Houston Audubon's coastal sanctuaries are now in excellent condition and have achieved global recognition largely due to Winnie's efforts.
Winnie has been recognized for her stellar conservation contributions by other groups such as the Citizens Environmental Coalition through the Army and Sarah Emmott Conservation Award, and she was named "Honorary Citizen of the Year" by the Bolivar Peninsula Chamber of Commerce.