Tskili and Simon: A Tale of Two Owls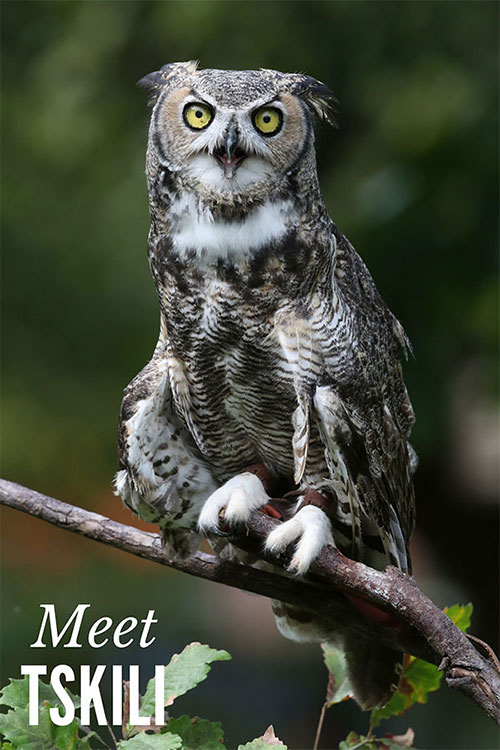 Meet Tskili – one of the hardest working birds in environmental education. His name translates to Great Horned Owl in Cherokee. 
Tskili's story starts in Montana in 1992, when he was just a year old. He was hit by a car and was discovered badly injured by a passing motorist. Many Great Horned Owls are tragically killed along our roads each year as habitat loss pushes them closer to civilization and all the dangers that come with it. Although the breaks and fractures in his wings were irreparable, at just 2.5 lbs, it's a miracle that he survived. Being released to the wild was no longer an option. 
After careful bandaging and cage rest, Tskili accepted a job as an Education Ambassador so he could help teach people about birds and conservation. He started accompanying Education Director Mary Anne Weber to her owl programs in Montana, where he helped educate thousands of youth and adults every year. 
In 1999, Mary Anne moved to Texas to join Houston Audubon, where she started building new aviaries for the education raptors. Tskili joined her in early 2000 and has since assisted the education team with almost 200 presentations annually and has touched tens of thousands of lives with his beauty and inspirational story of survival.
---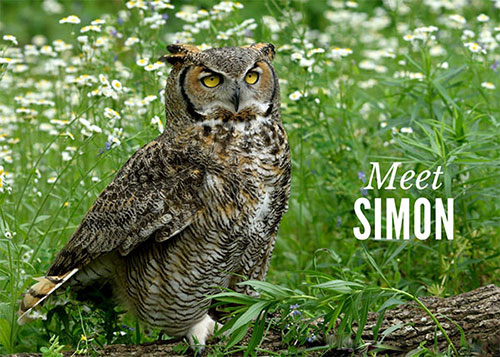 Meet Simon, a 3 year old owl from Wyoming. Although Simon was originally thought to be male, it became clear when she arrived in Houston that she is a large female Great Horned Owl. 
Simon was also rescued off the side of a highway by Suzanne Hansen, a volunteer with Pilots and Paws. It was determined that Simon had been on the side of the road for at least 24 hours with a broken leg and a broken wing. Suzanne named Simon after a very special rescue dog of hers that had recently passed away from an incurable disease. Suzanne and her husband rescue and transport animals in their airplane, Simon's Flight, in memory of their dog. They are so dedicated that when they can't fly, they drive. Simon the owl was their first raptor rescue, and they drove 10 hours round-trip over the Big Horns to bring Simon to Ironside Bird Rescue for rehabilitation. 
This is where Tskili and Simon's stories first intersect as, coincidentally, Ironside is the same place Tskili stayed while awaiting his trip to Texas. Simon's surgery was successful in repairing her leg and her wing, but as the wing is slightly crooked, she cannot fly well enough to be released. Thus began Simon's career as an educator with Houston Audubon.
---
Simon to the Rescue!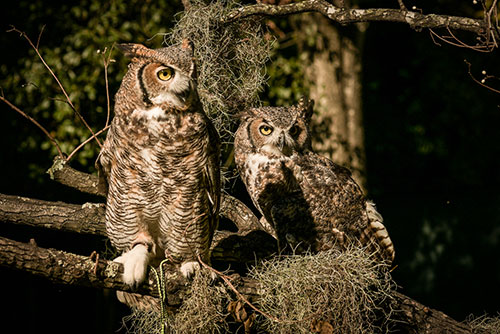 Tskili and Simon
Early one October morning, Tskili was found in his aviary sitting on the ground and looking a bit strange. Mary Anne immediately rushed Tskili to the vet. He was very anemic and barely hanging on, which was a big change from a few days prior when he helped give two programs to record crowds at an event in Richmond.
His initial exam showed that he would not make it much longer without an immediate emergency blood transfusion. Mary Anne was in a complete state of shock and upset, but hope emerged when the vet asked Mary Anne if she had another Great Horned Owl. Mary Anne immediately raced across town through crazy Houston traffic to pick up Simon. Upon Simon's arrival, she donated as much blood as she safely could and Tskili was treated.
Thanks to the life-saving gift from his new baby sister, Tskili pulled through! He is still recovering and is making steady improvement. The vets have determined that he has kidney disease, but with supportive care and lots of fluids, he should be just fine. They will continue to check Tskili's blood levels over the next few months and his meals are injected with water to keep him hydrated.
After 26 years of inspiring and educating people from coast to coast, Tskili is ready for his well-deserved retirement. The team at Houston Audubon looks forward to continuing to care for Tskili and spoiling him silly. As for Simon, she was woozy after the anesthesia but recovered quickly and was back to educating three days following blood donation to Tskili.
You can meet Simon and Tskili, after he's fully recovered, at the Houston Audubon Raptor and Education Center, opening in 2019. Don't forget to bring them some mice when you visit!
---
If you'd like to help Houston Audubon's conservation efforts, including taking care of our feathered friends like Tskili and Simon, please contribute for #GivingTuesday by clicking below.