Sims Bayou Urban Nature Center
Bird Sightings: Visit Texas eBird to find out what's being reported. Sims Bayou Urban Nature Center is an eBird Hot Spot.
Sims Bayou Urban Nature Center is a picturesque 1.1-acre sanctuary located in historic Park Place on the original channel of Sims Bayou. The center contains a log cabin, barn, gazebo, gardens, pond with native plants, and seasonal wetland trails that afford a unique opportunity to experience nature in a dense urban setting. It is located next to Charlton Park and the Glenbrook Golf Course.
The Sims Bayou Urban Nature Center was established in 1997 by the nonprofit Greater Park Place Community Development Corporation to help revitalize the area. That group created educational and environmental programs, attracted hundreds of volunteers and provided a peaceful setting for scouting, birding and other outdoor programs as well as boating and fishing opportunities. It was donated to Houston Audubon in 2005.
The center is the education campus and home to Houston Audubon's education department. The facilities give Houston Audubon needed space to expand many of its programs and develop new ones. Teacher workshops on the newly published Citizens' Guide to Migration and The Migratory Birds of the Bayou City are held there. Camps, field trips, community outreach (teaching birds), school programs, scout programs, adult and community programs are conducted both here and at the Edith Moore Nature Sanctuary.
PLEASE CALL AHEAD FOR OPEN HOURS.  The address is 3997 River Drive, Houston, TX 77017. It is two blocks from I-45 and only minutes from downtown. The phone number is 713-640-2407. All groups must schedule a tour or class in advance. For more information, please contact Mary Anne Weber, Education Director, at maweber@houstonaudubon.org.
Nature Store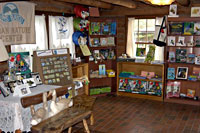 Fly on over to the southeast side of town and check out our nature store! The store is chock-full of books for birders, gardeners, children, and nature enthusiasts. We also offer hummingbird feeders, bird houses, jewelry, plush animals, and gifts for all ages.