Spring 2023 Special Events
Free Admission Day: April 1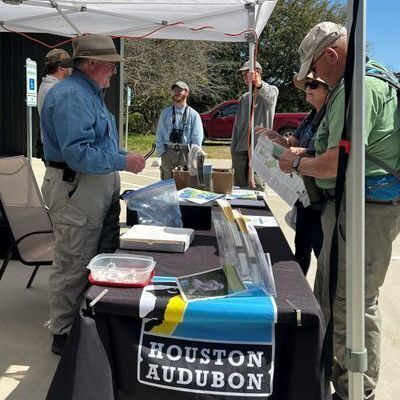 Join us on April 1st for FREE admission at all of Houston Audubon's High Island sanctuaries. This is no April Fool's joke! We're inviting the community out to explore our sanctuaries and immerse yourselves in nature. Walk the treetop Kathrine G. McGovern Canopy Walkway at Smith Oaks for a bird's-eye view of the bustling Rookery full of nesting excitement. Visit the drip by Purkey's Pond in Boy Scout Woods to be captured by the colorful migratory warblers stopping for a drink or a bath. Join us for a Rookery Talk at 11 AM with Houston Audubon's Conservation Director, chat with our friendly and knowledgeable volunteers about birds and wildlife, and hike our scenic trails to connect with nature. We will be selling patches and merchandise, but your daily admission is on us. 
Free Events
All programs are free and do not require registration unless otherwise noted. Please check in at the visitor kiosks upon arrival for the latest information & meeting location.
Guided walks at our sanctuaries with members of the Conservation team. Please check at the kiosk for the meeting locations and any updates.

Guided Bird Walks

Boy Scout Woods Bird Sanctuary

8:30 - 9:30 AM on April 6, April 20, and May 4
4:00 - 5:00 PM on April 8, April 14, April 22, April 28, and May 6

Smith Oaks Bird Sanctuary

8:30 - 9:30 AM on April 13 and April 27
4:00 - 5:00 PM on April 7, April 15, April 21, April 29, and May 5

Bolivar Flats Shorebird Sanctuary (click to register)

10 AM to Noon on April 1 and May 6

Join us on the canopy walkway to learn all about the birds of the Rookery

Flock Talks at the Rookery

Every Saturday & Sunday at 11 AM on the Smith Oaks Canopy Walkway

Classes are held at the brand new Morse Field Station and taught by members of the Conservation team.

Birding Classes at the Field Station

All classes start at 9 AM and last for 45 minutes.

April 7: Birding for Beginners
April 14: Birding with Technology
April 21: Warbler Identification
April 28: Shorebird Identification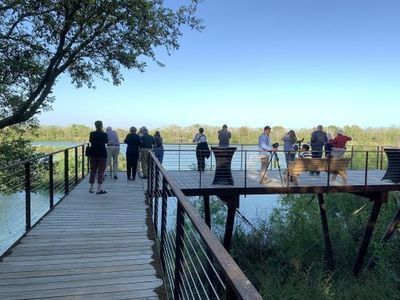 Evening on the Canopy Fundraiser: April 15
We will gather in the renovated historic pumphouse and along the Kathrine G. McGovern Canopy Walkway to celebrate the wonder of spring migration, get an up close and personal view of the nesting birds in the rookeries, join a guided bird walk, and enjoy tacos and margaritas. 
Individual tickets are $50/person or $80/person with bus transportation to/from Houston. Sponsor opportunities available.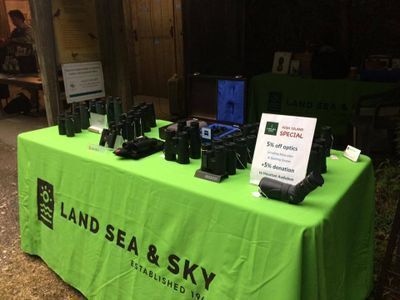 Land Sea and Sky Optics Booth
The knowledgeable staff of Land Sea and Sky will once again provide High Island visitors the opportunity to try out several binoculars and scopes in the field.  They will be set up in Boy Scout Woods on April 14-16, April 21-23, and April 28-30.  A portion of purchases will go toward supporting Houston Audubon programs.
---