Rookery Rental Platform
In response to demand, Houston Audubon has built a new observation platform for special purposes at the Rookery in Smith Oaks Bird Sanctuary. It accommodates 9 photographers/artists/observers at a time. The platform has three levels – note: levels one and three are uncovered, level 2 is covered. See chart on the right for the layout.
There are a total of five observation platforms at the Rookery. Four of the platforms are free of charge throughout the year. The fifth platform is designed to accommodate those who wish to have longer observations.
Rookery Spring Season
During the Rookery's spring season (February 15-May 7, 2017), reservations and prepayment are accepted to reserve the platform. In the event that there are no reservations, the platform will be available for general use, and outside the rental season, the platform is available to all free of charge. During the rental period, if there are any reservations, the platform will be available to reservation holders only.The other platforms continue to be free of charge in all seasons. Spaces may be reserved for morning (sunrise to 1 PM) and/or afternoon (2 PM to sunset) sessions. Please note that the reservation fee does not include the admission fee to Houston Audubon's High Island sanctuaries. A day pass costs $8, or for $30 a patch may be purchased which gives you an unlimited number of admissions to all High Island sanctuaries for one year.  Benches are provided at the rear of the decks; you are encouraged to bring your own chairs and other necessary equipment. Carts, however, are not allowed.
For the spring 2017 season reservations are made for a specific space (see diagram on the right). See the reservation form on the Spring Reservations page for details.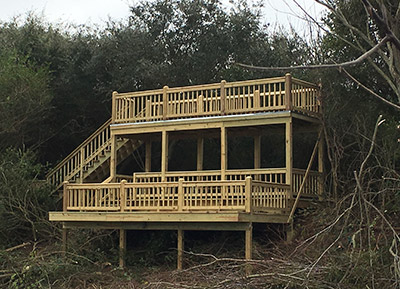 Rookery Rental Platform
Summer, Fall, and Winter Seasons
In other seasons, use of the platform is free and no reservations are necessary.
Questions? Need more information? Contact Richard Gibbons at rgibbons@houstonaudubon.org. For questions about the reservation form, contact Juanita Perkins at jperkins@houstonaudubon.org.