Planning Your Visit
All Houston Audubon sanctuaries are closed to the public. The stay home orders mandated by Harris and Galveston counties require the sanctuaries to remain closed at least through April 30, 2020. Please check back for updates.
Please click the link to make a donation to Houston Audubon to help us maintain our sanctuaries for birds and people to enjoy.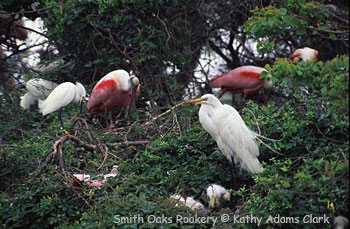 The Rookery at Smith Oaks
High Island Patch
If you would like to purchase a 2020 patch, it will be valid through 2021.

Story of the patch and a photo gallery of all previous yearly patches.
High Island Spring 2020
The kiosk and merchandise sales at Boy Scout Woods will be closed for the season. No day passes will be sold. Staff and volunteer presence will be limited. We appreciate your support of Houston Audubon and will honor your patch next year. It will be valid through 2021.
Birding Walks: Because of travel restrictions due to the coronavirus, the Tropical Birding guides will not be at High Island this spring.
Event Cancellations due to the coronavirus: Land Sea and Sky at High Island, Flight in Focus, April BBQ Lunches.
Photo blind at Boy Scout Woods: Closed during the spring migration season due to health concerns.
New this spring: We'll open the brand new Kathrine G. McGovern Canopy Walkway in Smith Oaks Bird Sanctuary. This 600-foot elevated boardwalk will provide an interpreted experience through the forest layers, culminating with commanding overlooks at both Smith and Claybottom ponds. We will also open new restrooms in Smith Oaks.
Best Time to Visit
Our High Island sanctuaries are open daily throughout the year. Peak spring migration season is from mid-March to mid-May. Numbers are highest during a "fallout", which sometimes occurs with a fast-moving cold front. During fall migration, late September to mid-October usually produce the best results.
Restrictions
No dogs or other domestic animals are allowed at any of the High Island Sanctuaries. The use of laser pointers is prohibited. No pishing or use of playback devices unless special permission is obtained. Drone photography is prohibited. Smoking is prohibited except in the parking lots.
Details of policies and rules for all the High Island sanctuaries including information for photographers and campers
Our Sanctuary Neighbors
Please be considerate of our neighbors! Birds can be found almost anywhere on High Island, including our neighbors' yards. Please do not enter their yards and be careful when you aim your binoculars, as some people get the idea that birders are looking in their windows and invading their privacy.
Oil Field Roads
Please note that the oilfield roads are temporarily inaccessible.
High Island Community
Please support local businesses and civic organizations as much as possible. Communities are more willing to support local conservation efforts if they feel protected habitat helps the local economy. See the list of accommodations, food, and other useful addresses compiled by Houston Audubon members.
Official website for Galveston Island

High Island visitor and lodging information for the Bolivar Peninsula

High Island visitor and lodging information for the Winnie area

Information about Chambers County outdoor activities