Planning Your Visit
High Island Patch
Story of the patch and a photo gallery of all previous yearly patches.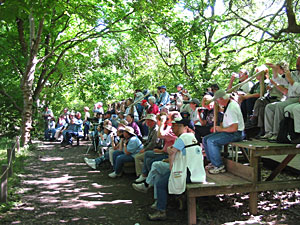 High Island Bleachers
High Island patches are highly prized and have become collectibles over the years among visiting birders as well as Houston Audubon members. The 2019 patch features a Yellow-throated Warbler. Pre-orders start the week of December 3.
Sanctuary System
Houston Audubon has 4 sanctuaries at High Island. Boy Scout Woods is the headquarters, which is staffed by volunteers during peak spring migration season from mid-March to mid-May. Smith Oaks is the largest sanctuary and home to the Rookery. The Rookery is fascinating to visit throughout the year. The High Island sanctuaries are fee sites. The fee helps defray the costs of maintenance, utilities and improvements for the entire Houston Audubon sanctuary system. A day pass costs $8, or for $30 a patch may be purchased which gives you an unlimited number of admissions to all High Island sanctuaries for one year. Children under 18 years old are free. High Island residents are also free (proof of residency such as a driver's license is needed).
The kiosk at Boy Scout Woods should be your first stop during spring season. There you can purchase a day pass or patch and find out about the latest sightings. Our friendly volunteers are glad to assist you with directions and provide help with which areas may be best suited for your interests.
TOS Partnership: A new partnership in High Island will make it easier to visit both Texas Ornithological Society (TOS) and Houston Audubon sanctuaries. Purchase of a day pass or annual patch from Houston Audubon will provide passage to the ever-popular Hooks Woods on First St.
Tropical Birding Partnership
For the past 11 years during spring migration season, the professional guides at Tropical Birding have volunteered their services, enabling us to offer free birding walks at High Island and Bolivar Flats. Thank you, Tropical Birding!
Best Time to Visit
Our High Island sanctuaries are open daily throughout the year. Peak spring migration season is from mid-March to mid-May. Numbers are highest during a "fallout", which sometimes occurs with a fast-moving cold front. During fall migration, late September to mid-October usually produce the best results.
Restrictions
No dogs or other domestic animals are allowed at any of the High Island Sanctuaries. The use of laser pointers is prohibited. No pishing or use of playback devices unless special permission is obtained. Drone photography is prohibited. Smoking is prohibited except in the parking lots.
Details of policies and rules for all the High Island sanctuaries including information for photographers and campers
Our Sanctuary Neighbors
Please be considerate of our neighbors! Birds can be found almost anywhere on High Island, including our neighbors' yards. Please do not enter their yards and be careful when you aim your binoculars, as some people get the idea that birders are looking in their windows and invading their privacy.
Oil Field Roads
There are many miles of oil field roads around High Island that birders can drive. These roads go through coastal prairie and marshes and are good locations to look for marsh birds like rails and sparrows. Remember that these roads are on private property and that you should stay on the road at all times. You must be careful as you drive these roads as many are in poor condition and are subject to flooding. The oil fields are active, so there may be truck traffic. The trucks have the right of way.
High Island Community
Please support local businesses and civic organizations as much as possible. Communities are more willing to support local conservation efforts if they feel protected habitat helps the local economy. See the list of accommodations, food, and other useful addresses compiled by Houston Audubon members.
Official website for Galveston Island

High Island visitor and lodging information for the Bolivar Peninsula

High Island visitor and lodging information for the Winnie area

Information about Chambers County outdoor activities