Photo Blind Reservations
The reservation season is March 25 - May 7, 2017.  This list displays available spots as of March 23, 2017. 
Please reserve in person at Boy Scout Woods or contact Juanita Perkins during office hours (10 AM - 3 PM, M-F) at 713-932-1639. 
The list below may not show all reservations since once the Boy Scout Woods kiosk is open, online reservations are no longer accepted and the online information is not updated.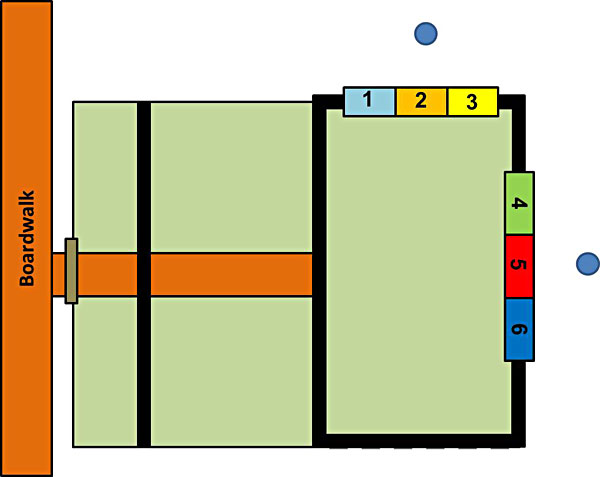 | Date | Available |
| --- | --- |
| March 25 Saturday | 1, 2, 3, 4, 5, 6 |
| March 26 Sunday | 1, 2, 3, 4, 5, 6 |
| March 27 Monday | 1, 2, 3, 4, 5, 6 |
| March 28 Tuesday | 1, 2, 3, 4, 5, 6 |
| March 29 Wednesday | 1, 2, 3, 4, 5, 6 |
| March 30 Thursday | 1, 2, 3, 4, 5, 6 |
| March 31 Friday | 1, 3 |
| April 1 Saturday | |
| April 2 Sunday | 1, 2, 3, 4, 6 |
| April 3 Monday | 1, 2, 3, 4, 5, 6 |
| April 4 Tuesday | 1, 4, 5, 6 |
| April 5 Wednesday | 1, 2, 3, 4 |
| April 6 Thursday | 1, 2, 3 |
| April 7 Friday | 1, 2, 3 |
| April 8 Saturday | |
| April 9 Sunday | 1, 2, 3 |
| April 10 Monday | |
| April 11 Tuesday | 1 |
| April 12 Wednesday | 3 |
| April 13 Thursday | 1, 2, 3 |
| April 14 Friday | 1 |
| April 15 Saturday | 1, 2, 3 |
| April 16 Sunday | 1, 3 |
| April 17 Monday | 1, 2, 3 |
| April 18 Tuesday | 1, 3 |
| April 19 Wednesday | 1 |
| April 20 Thursday | 1, 2 |
| April 21 Friday | 1, 2, 3 |
| April 22 Saturday | 1 |
| April 23 Sunday | |
| April 24 Monday | |
| April 25 Tuesday | 1, 2, 3 |
| April 26 Wednesday | 1 |
| April 27 Thursday | 1, 3, 4 |
| April 28 Friday | 1, 2 |
| April 29 Saturday | 1, 2, 6 |
| April 30 Sunday | 1, 2, 3, 6 |
| May 1 Monday | 1, 2, 3, 4, 5 |
| May 2 Tuesday | 1, 2, 3, 4, 6 |
| May 3 Wednesday | 1, 2, 3, 4, 5 |
| May 4 Thursday | 1, 2, 4, 5 |
| May 5 Friday | 1, 2, 3, 5 |
| May 6 Saturday | 1, 2, 3, 4, 5, 6 |
| May 7 Sunday | 1, 2, 3, 4, 5, 6 |