Photo Blind Reservations
The reservation season is March 27 - May 3, 2020. The rest of the year, use of the photo blind is free and no reservations are needed.
Reservations for the spring 2020 season begin at 10 AM CST on Friday, December 6, 2019 for Houston Audubon members only. Non-members may sign up beginning at 10 AM CST on Monday, January 6, 2020.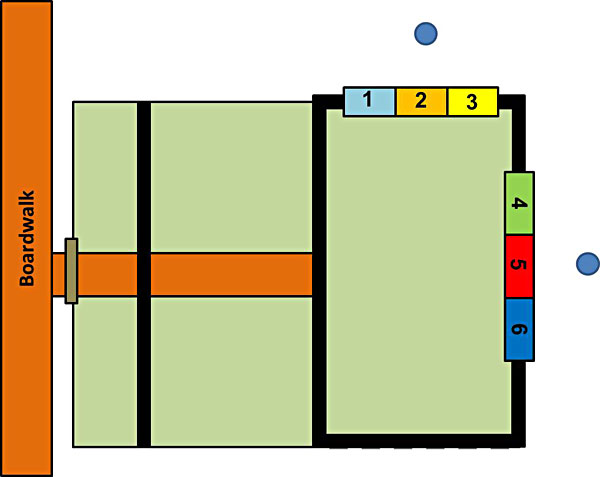 | Date | Available |
| --- | --- |
| March 27 Friday | 1, 2, 3, 4, 5, 6 |
| March 28 Saturday | 1, 2, 3, 4, 5, 6 |
| March 29 Sunday | 1, 2, 3, 4, 5, 6 |
| March 30 Monday | 1, 2, 3, 4, 5, 6 |
| March 31 Tuesday | 1, 2, 3, 4, 5, 6 |
| April 1 Wednesday | 1, 2, 3, 4, 5, 6 |
| April 2 Thursday | 1, 2, 3, 4, 5, 6 |
| April 3 Friday | 1, 2, 3, 4, 5, 6 |
| April 4 Saturday | 1, 2, 3, 4, 5, 6 |
| April 5 Sunday | 1, 2, 3, 4, 5, 6 |
| April 6 Monday | 1, 2, 3, 4, 5, 6 |
| April 7 Tuesday | 1, 2, 3, 4, 5, 6 |
| April 8 Wednesday | 1, 2, 3, 4, 5, 6 |
| April 9 Thursday | 1, 2, 3, 4, 5, 6 |
| April 10 Friday | 1, 2, 3, 4, 5, 6 |
| April 11 Saturday | 1, 2, 3, 4, 5, 6 |
| April 12 Sunday | 1, 2, 3, 4, 5, 6 |
| April 13 Monday | 1, 2, 3, 4, 5, 6 |
| April 14 Tuesday | 1, 2, 3, 4, 5, 6 |
| April 15 Wednesday | 1, 2, 3, 4, 5, 6 |
| April 16 Thursday | 1, 2, 3, 4, 5, 6 |
| April 17 Friday | 1, 2, 3, 4, 5, 6 |
| April 18 Saturday | 1, 2, 3, 4, 5, 6 |
| April 19 Sunday | 1, 2, 3, 4, 5, 6 |
| April 20 Monday | 1, 2, 3, 4, 5, 6 |
| April 21 Tuesday | 1, 2, 3, 4, 5, 6 |
| April 22 Wednesday | 1, 2, 3, 4, 5, 6 |
| April 23 Thursday | 1, 2, 3, 4, 5, 6 |
| April 24 Friday | 1, 2, 3, 4, 5, 6 |
| April 25 Saturday | 1, 2, 3, 4, 5, 6 |
| April 26 Sunday | 1, 2, 3, 4, 5, 6 |
| April 27 Monday | 1, 2, 3, 4, 5, 6 |
| April 28 Tuesday | 1, 2, 3, 4, 5, 6 |
| April 29 Wednesday | 1, 2, 3, 4, 5, 6 |
| April 30 Thursday | 1, 2, 3, 4, 5, 6 |
| May 1 Friday | 1, 2, 3, 4, 5, 6 |
| May 2 Saturday | 1, 2, 3, 4, 5, 6 |
| May 3 Sunday | 1, 2, 3, 4, 5, 6 |