Photo Blind Reservations
The reservation season is March 24 - May 6, 2018.  f you have questions about your reservation or how to use the form, contact Juanita Perkins at jperkins@houstonaudubon.org, or 713-932-1639. 
Reservations for the spring 2018 season begin at 10 AM CST on December 4, 2017 for Houston Audubon members only. Non-members may sign up beginning at 10 AM CST on January 4, 2018.
Please be aware that the photo blind reservation calendar on our website is not synchronized in real time to the reservation requests. However, the requests are time stamped and we update the calendar as often as we can. If you would like us to assign you to an adjacent seat in the photo blind on the rare occasion that another individual places a request for the same date and seat as you have chosen before we are able to update the calendar, please indicate in the comments field on the form which other seats would be acceptable to you. We will email you if the alternate seat selection was assigned.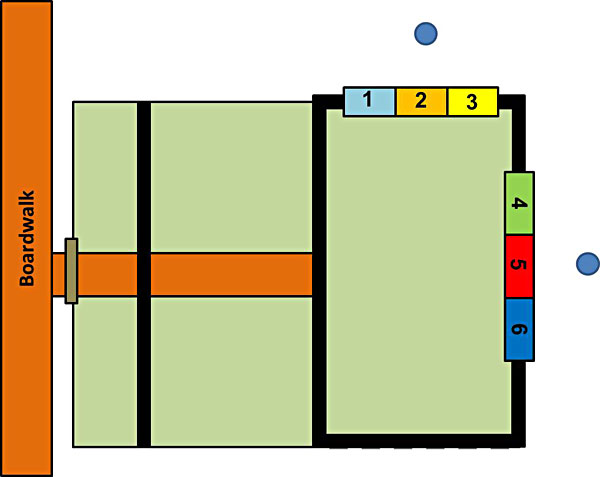 | Date | Available |
| --- | --- |
| March 24 Saturday | 1, 2, 3, 4, 5, 6 |
| March 25 Sunday | 1, 2, 3, 4, 5, 6 |
| March 26 Monday | 1, 2, 3, 4, 5, 6 |
| March 27 Tuesday | 1, 2, 3, 4, 5, 6 |
| March 28 Wednesday | 1, 2, 3, 4, 5, 6 |
| March 29 Thursday | 1, 2, 3, 4, 5, 6 |
| March 30 Friday | 1, 2, 3, 4, 5, 6 |
| March 31 Saturday | 1, 2, 3, 4, 5, 6 |
| April 1 Sunday | 1, 2, 3, 4, 5, 6 |
| April 2 Monday | 1, 2, 3, 4, 5, 6 |
| April 3 Tuesday | 1, 2, 3, 4, 5, 6 |
| April 4 Wednesday | 1, 2, 3, 4, 5, 6 |
| April 5 Thursday | 1, 2, 3, 4, 5, 6 |
| April 6 Friday | 1, 2, 3, 4, 5, 6 |
| April 7 Saturday | 1, 2, 3, 4, 5, 6 |
| April 8 Sunday | 1, 2, 3, 6 |
| April 9 Monday | 1, 2, 3, 4, 5, 6 |
| April 10 Tuesday | 1, 2, 3, 4, 5, 6 |
| April 11 Wednesday | 1, 2, 3, 4, 5, 6 |
| April 12 Thursday | 1, 2, 3, 4, 5, 6 |
| April 13 Friday | 1, 2, 3, 4, 5, 6 |
| April 14 Saturday | 1, 2, 3, 6 |
| April 15 Sunday | 1, 2, 3, 6 |
| April 16 Monday | 1, 2, 3, 4, 5, 6 |
| April 17 Tuesday | 1, 2, 3, 6 |
| April 18 Wednesday | 1, 2, 3, 6 |
| April 19 Thursday | 1, 2, 3, 6 |
| April 20 Friday | 1, 2, 3, 4, 5, 6 |
| April 21 Saturday | 1, 2, 3 |
| April 22 Sunday | 1, 2 |
| April 23 Monday | 1, 2 |
| April 24 Tuesday | 1, 2, 3 |
| April 25 Wednesday | 1, 3 |
| April 26 Thursday | 1, 2 |
| April 27 Friday | 1, 2, 3 |
| April 28 Saturday | 1, 2, 3 |
| April 29 Sunday | 1, 2, 3 |
| April 30 Monday | 1, 2, 3 |
| May 1 Tuesday | 1, 2, 3, 6 |
| May 2 Wednesday | 1, 2, 3 |
| May 3 Thursday | 1, 2, 3, 4, 5, 6 |
| May 4 Friday | 1, 2, 3, 4, 5 |
| May 5 Saturday | 1, 2, 3, 4, 5, 6 |
| May 6 Sunday | 1, 2, 3, 4, 5 |