Photo Blind Reservations
The reservation season is March 23 - May 5, 2019.
Reservations for the spring 2019 season begin at 10 AM CST on December 3, 2018 for Houston Audubon members only. Non-members may sign up beginning at 10 AM CST on January 3, 2019. The calendar as well as a test version of the form for practice will be available in November.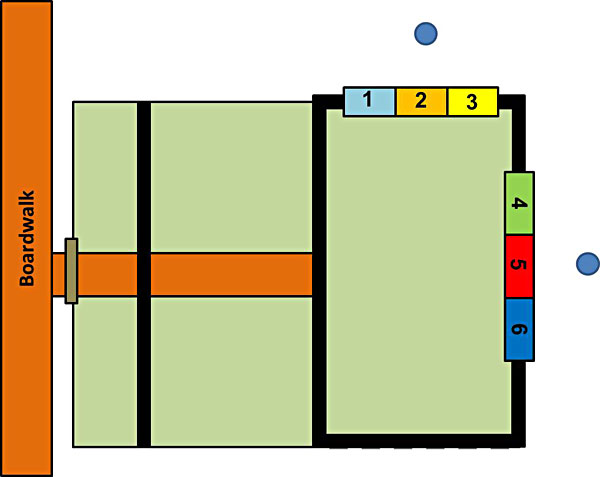 | Date | Available |
| --- | --- |
| March 23 Saturday | 1, 2, 3, 4, 5, 6 |
| March 24 Sunday | 1, 2, 3, 4, 5, 6 |
| March 25 Monday | 1, 2, 3, 4, 5, 6 |
| March 26 Tuesday | 1, 2, 3, 4, 5, 6 |
| March 27 Wednesday | 1, 2, 3, 4, 5, 6 |
| March 28 Thursday | 1, 2, 3, 4, 5, 6 |
| March 29 Friday | 1, 2, 3, 4, 5, 6 |
| March 30 Saturday | 1, 2, 3, 4, 5, 6 |
| March 31 Sunday | 1, 2, 3, 4, 5, 6 |
| April 1 Monday | 1, 2, 3, 4, 5, 6 |
| April 2 Tuesday | 1, 2, 3, 4, 5, 6 |
| April 3 Wednesday | 1, 2, 3, 4, 5, 6 |
| April 4 Thursday | 1, 2, 3, 4, 5, 6 |
| April 5 Friday | 1, 2, 3, 4, 5, 6 |
| April 6 Saturday | 1, 2, 3, 4, 5, 6 |
| April 7 Sunday | 1, 2, 3, 4, 5, 6 |
| April 8 Monday | 1, 2, 3, 4, 5, 6 |
| April 9 Tuesday | 1, 2, 3, 4, 5, 6 |
| April 10 Wednesday | 1, 2, 3, 4, 5, 6 |
| April 11 Thursday | 1, 2, 3, 4, 5, 6 |
| April 12 Friday | 1, 2, 3, 4, 5, 6 |
| April 13 Saturday | 1, 2, 3, 4, 5, 6 |
| April 14 Sunday | 1, 2, 3, 4, 5, 6 |
| April 15 Monday | 1, 2, 3, 4, 5, 6 |
| April 16 Tuesday | 1, 2, 3, 4, 5, 6 |
| April 17 Wednesday | 1, 2, 3, 4, 5, 6 |
| April 18 Thursday | 1, 2, 3, 4, 5, 6 |
| April 19 Friday | 1, 2, 3, 4, 5, 6 |
| April 20 Saturday | 1, 2, 3, 4, 5, 6 |
| April 21 Sunday | 1, 2, 3, 4, 5, 6 |
| April 22 Monday | 1, 2, 3, 4, 5, 6 |
| April 23 Tuesday | 1, 2, 3, 4, 5, 6 |
| April 24 Wednesday | 1, 2, 3, 4, 5, 6 |
| April 25 Thursday | 1, 2, 3, 4, 5, 6 |
| April 26 Friday | 1, 2, 3, 4, 5, 6 |
| April 27 Saturday | 1, 2, 3, 4, 5, 6 |
| April 28 Sunday | 1, 2, 3, 4, 5, 6 |
| April 29 Monday | 1, 2, 3, 4, 5, 6 |
| April 30 Tuesday | 1, 2, 3, 4, 5, 6 |
| May 1 Wednesday | 1, 2, 3, 4, 5, 6 |
| May 2 Thursday | 1, 2, 3, 4, 5, 6 |
| May 3 Friday | 1, 2, 3, 4, 5, 6 |
| May 4 Saturday | 1, 2, 3, 4, 5, 6 |
| May 5 Sunday | 1, 2, 3, 4, 5, 6 |