Boy Scout Woods Photo Blind
About the Boy Scout Woods Photo Blind
Houston Audubon maintains a photo blind at Boy Scout Woods which accommodates 6 photographers per day. Each seat features a large rectangular opening that allows camera lens movement to make different shots possible. Please note that we do not allow visitors to set up their own blinds in our sanctuaries. 
High Island Spring Season: During High Island's Spring Migration season (March 27 - May 3, 2020), photo blind reservations and prepayment are required. The reservation fee is $25.00 per person/space/day. Please note that the reservation fee does not include the admission fee to Houston Audubon's High Island sanctuaries. A day pass costs $8, or for $30 a patch may be purchased which gives you an unlimited number of admissions to all High Island sanctuaries for one year.
Only photographers with paid reservations are allowed in the photo blind. Chairs/stools are provided, but photographers are encouraged to bring their own chairs and other necessary equipment. Photographers should check in at the visitor services kiosk in Boy Scout Woods. Please note: as the kiosk does not open until 8 AM, photographers are allowed to enter the photo blind at sunrise and check in at a later time. Photo blind reservations are made for a specific seat (see chart on the right). 
Summer, Fall, and Winter Seasons: In other seasons use of the Boy Scouts Woods photo blind is free and no reservations are necessary. 
Questions? Need more information? Please contact Richard Gibbons at rgibbons@houstonaudubon.org.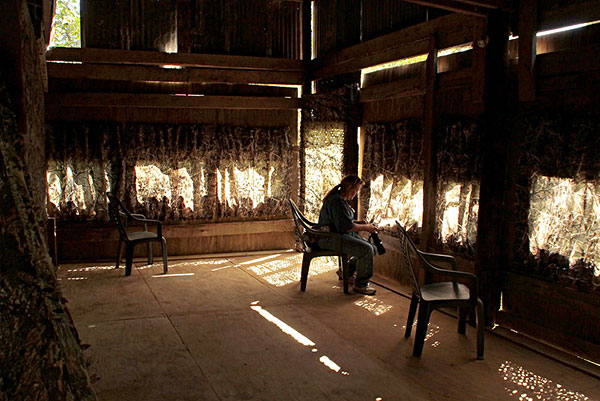 Interior View