Log Cabin Event Rentals
---
Rental Availability
As of spring 2018, we are no longer accepting rental application until further notice.
---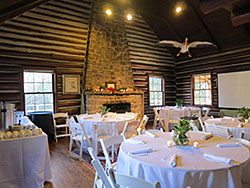 The 1932 Moore Log Cabin is a State Historic Landmark surrounded by the Edith L. Moore Nature Sanctuary's eighteen acre hardwood forest on Rummel Creek. Houston Audubon offers the use of the cabin and surrounding gardens for your special event. The cabin provides a cherished space to host your gathering where guests can enjoy the quiet and beauty of nature, hidden away within west Houston.
Event Rental Highlights
Quiet, natural setting for events such as family gatherings, board retreats, dinner parties and small weddings
Rental Hours: 8 AM to 10 PM – weekdays / 
8 AM to 11 PM – weekends
Cabin deck and gardens provide great space for acoustic music
Limited onsite parking; valet service recommended to satellite parking areas
Nature-based, rustic, environmentally friendly decorations are well suited for the cabin and grounds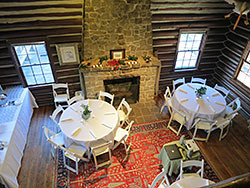 Included Amenities
Staff Host for event
Private use of cabin interior:
Great Room: 370 sq.ft
Outdoor Deck: 600 sq.ft. 
Covered Porches: 680 sq.ft.
Use of cabin's surrounding gardens and Wilchester parking lot
Adjoining restroom (open to public) and private bridal changing area
Eight folding rectangular tables, two wooden tables, and 40 folding chairs
Central AC and heat in cabin
Use of prep area and upstairs loft  (fridge, freezer, sink and dressing\setup area)
Access to sanctuary grounds and trails (open to public)
TABC licensed bartender required for alcoholic beverages (No sale or tipping)
Smart TV, laptop, PA system and speakers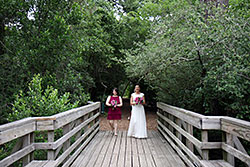 | Fee Schedule | 40 max attendees | 41-100 max attendees |
| --- | --- | --- |
| Meetings and Parties* | | |
| Up to 4 hours | $500 | $750 |
| 4-8 hours | $750 | $1,000 |
| Weddings* | | |
| Ceremony Only (no food). Up to 3 hours. | $1,000 | $1,500 |
| Ceremony & Reception. Up to 6 hours. | $1,700 | $2,250 |
| Closure of Central Edith L. Moore Nature Sanctuary (from Fondren Bridge to Wilchester Lot. This includes any exclusive use of the Fondren Bridge). Up to 8 hours. | $3,500 | $3,500 |
| Closure of Entire 18-acre Edith L. Moore Nature Sanctuary. Up to 8 hours. | $5,000 | $5,000 |
*20% discount available for non-profit organizations
Wedding Rehearsals are scheduled separately - $200 fee for up to 2-hours.
Guided Sanctuary Tours (ideal during transition time) - $100 fee.
Portrait Photography – additional fee if outside of event time.
TULIP policy fee - $125 per event.
Fifty percent deposit of full payment is due the day we reserve your event, payable to Houston Audubon - credit, check or cash. Full payment is due 30 days before your event. A reservation is not official until all required paperwork is completed and approved by Houston Audubon, and the deposit paid in full.
---
Edith L. Moore Nature Sanctuary and Log Cabin Rental Inquiry