About Edith L. Moore Nature Sanctuary
COVID-19 Response: Starting on May 4, open every day from 7 AM to 7 PM. Restrooms are closed. The only entrance is at the east gate in the Memorial Drive United Methodist Church parking lot. Parking is available in the church parking lot.
Note that in June-August 2020, the sanctuary will open at 12:30 PM on Wednesdays.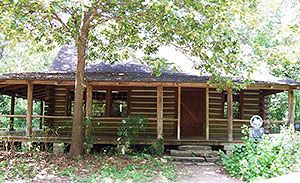 The Edith L. Moore Nature Sanctuary in West Houston is a 17.5-acre wooded preserve along Rummel Creek featuring the 1932 Moore Log Cabin education center as well as the Houston Audubon headquarters.
Mission
The mission of the Houston Audubon Edith L. Moore Nature Sanctuary is to provide an urban wildlife sanctuary for native plants and animals and to provide education about the natural environment to Houstonians of all ages. An average of 10,000 people participate in hands-on, environmental education programs at the sanctuary each year.
Nature
Within its 17.5 acres of hardwood and pine forest and freshwater habitats, the Edith L. Moore Nature Sanctuary provides an important home for native wildlife. Resident mammals, migratory songbirds, shorebirds, birds of prey and a variety of species of reptiles and amphibians live within the sanctuary. Rummel Creek and the ponds of the sanctuary host resident bull frogs, as well as bronze and leopard frogs. Many turtles and several species of water snakes and aquatic invertebrates also call our creek and pond habitats home.
Visitor Information
Privately owned and managed by the Houston Audubon Society. We welcome your donations!  
Open 365 days a year - gates open at 7 AM and close at 7 PM (9 PM in summer).  
Stay on marked trails - walking only - creek & pond access limited to staff-supervised programming.  
The Log Cabin is open for scheduled programming only. (Saturday in Nature program currently on hold for the season.) 
Boardwalks may be slippery when wet.  
Beware of venomous snakes, mosquitoes, fire ants, poison ivy and armadillo burrows.  
Your generous donation helps to preserve the sanctuary for the birds and for our future.
Note: web searches for "zip lining in Houston" will direct you here. However, this is incorrect information; we do not have a recreational zip line at the sanctuary. Our apologies for the confusion.
Group Visits
Awesome Avian Adventures for all grade levels K-12. Tours include activities and interactions with live birds.

Tours include up-close encounters with live birds, presentation in the historic cabin and a guided walk along Rummel Creek. Harris County Senior Bus Trips Welcome!

All groups (defined as larger than 7 persons) who are not accompanied by a Houston Audubon guide must preregister by completing the form linked above.
Policies
Because this is a wildlife sanctuary, we ask you to observe the following rules.
Respect all wildlife

You are the visitor – this is their home

Respect the peace

Be considerate of other sanctuary visitors

Pet-free sanctuary

For the well-being of our birds and wildlife, and the safety of our visitors, leave all dogs and pets at home.

Leave nature as you found it

No harming or collecting or introduction of plants or animals

Pack out everything you pack in

Stay on marked trails

Walking only - Rummel Creek & pond access limited to staff-supervised programming

Use of laser pointers is prohibited at all sanctuaries

No pishing or use of playback devices unless special permission is obtained

Firearms are not permitted on the grounds

No smoking or alcohol consumption
Permits
Nature photography is encouraged.
Click the link above to register online for Portrait Photography.
Note that all portrait photographers (amateur or professional) must pre-register and pay Houston Audubon a permit fee to take posed portraits of individuals or groups on our grounds.
Contact Lauren Miheli at lmiheli@houstonaudubon.org with any questions.