Titmouse Club
Background Information
TheTitmouse Club is designed for preschoolers ages 2 1/2 to 5 years. Please do NOT bring your play group, etc. to this program as a group activity. Thanks!
Through stories, hands-on activities, nature walks and crafts, your children will be inspired with a deeper understanding and appreciation for the natural world around them. Titmouse Club meets on Tuesday mornings, mid-September to mid-May, 10:00 - 11:00 AM. 
Titmouse Club begins at 10 AM. The program will be closed to new participants at 10:15 AM. Please arrive on time so as not to disturb the experience for other children.
What is a Titmouse?

Titmouse Club is named for the inquisitive, small gray songbird with a white breast and a perky gray crest on its head, hence its full name, "Tufted Titmouse." Titmice are active and gregarious birds commonly seen within the Edith Moore Nature Sanctuary. They are often found with chickadees year-round in Houston's wooded parks and yards.
Lesson Themes
Each week's Titmouse Club lesson features a different nature theme, focusing on our own Houston-area animals and habitats. We'll enjoy nature stories and puppets, hands-on biofacts, nature crafts, up-close animal encounters, and a short walk in the woods.
Learning Environment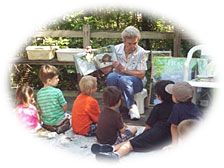 An adult must stay with each child or family at Titmouse Club. You're welcome to bring your younger children with you as well. However, we do ask that you take these younger ones aside if they begin to disrupt the program. We would greatly appreciate your attention to the program as well (please avoid cell phone use during the program). Also, encourage your child to leave your lap and sit up close to the storyteller so they can hear well and see all the pictures shown. We will lead the lessons and activities, but cannot be responsible for supervising each child. Please keep an eye on your children for their safety and enjoyment during the program. Thank you for helping us to create a positive educational environment.
Directions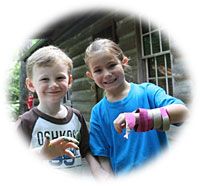 Titmouse Club attendees should park in the west parking lot of Memorial Drive United Methodist Church (12955 Memorial Drive). Enter the sanctuary through the marked gate in the fence near the rear of the church lot. To find the log cabin: Turn right at the first fork when you enter, then left over the Rummel Creek Bridge. The cabin will be straight ahead just past the ponds.
Program Fees
The cost is $5.00 per participating child. Discount Cards for five prepaid sessions for $20.00 are available, or you can bring correct change each time you attend. No reservations are necessary for Titmouse Club. Class size is limited to the first 15 children who arrive.
Weather

We hardy Titmice carry on even when it's cold and rainy, so don't let bad weather keep you away. We gather outside whenever possible, but we always have the heated log cabin for cozy shelter. Spring Titmice programs tend to fill up quickly so get here early to make sure you get a good spot!
Hope you enjoy being in the Titmouse Club as much as we do!
Mary Anne Weber,Education Director, maweber@houstonaudubon.org
Jeanette Lambert, Education Assistant, jlambert@houstonaudubon.org