Outreach Programs
Discover the natural world of birds and native wildlife with these exciting outreach programs. Topics may be tailored for schools, summer reading programs, garden clubs & civic organizations, scouts, camps, special events, and senior communities.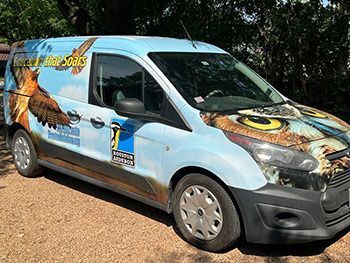 Programs may feature live birds of prey and other animals, hands-on displays, slides, bird and animal recordings.
Programs run 45 minutes to an hour; shorter shows are available for younger audiences.
Our programs are very popular. To avoid disappointment please call at least 2 months (if not longer) in advance of your program request date. We are typically booked for spring programs by the end of January. Do not hesitate to reserve dates well ahead of time.
Please contact Mary Anne Morris, Education Director, at mamorris@houstonaudubon.org for more information.
Programs at Our Sanctuaries