Outreach Programs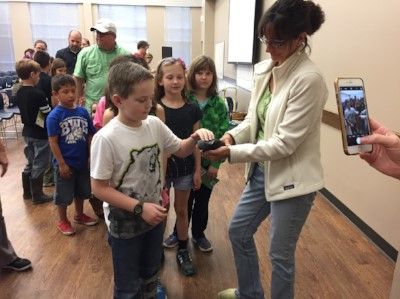 Mary Anne Morris with an education bird
An Avian Adventure

Soaring over our city parks and nesting in our backyards are an amazing array of birds. Discover why Houston is one of the birdiest cities in the country. Learn all about what makes a bird a bird. Meet live birds of prey and others. Great for all ages and adaptable for all grade levels.

Owls - Give a HOOT!

In the dark of night the nocturnal hunters emerge. Owls spend their nights hunting for prey and raising their families. Learn about these silent hunters and meet live owls. This program is perfect for students who are dissecting owl pellets or for audiences who love owls and owls in literature. This is one of our most popular programs. Please call well in advance to schedule.

Birds, Books, and Beyond (Public Library Program)

Soar into the world of birds and discover how amazing our feathered friends truly are. This program features live birds, bird song and dance, fun books to look for at your library, and much more! This program is geared for elementary grades and younger audiences.

Hatch (for Pre-K - 1st grade audiences only)

This program highlights amazing creatures that all "hatch" from eggs. Meet live animals and discover why all eggs are not the same. Stories and movement get the audience members involved. This is a fun program for our youngest audiences.

It's a Jungle Out There!

From the highest of canopies to the dark forest floor, rain forests are teaming with life. Meet live birds and other animals that call the South American rain forest home. Learn about the amazing creatures that share this vanishing habitat and how our Texas birds rely on this special place for their winter home.

WILD About RAPTORS

Soar, stoop, and steer your way into this exciting program about birds of prey. WILD about Raptors focuses on the birds of prey such as falcons, hawks, eagles and owls. Live raptors bring this program to life!

Marvels of Migration

Have wings, will travel? Why do birds migrate? How do they know when to leave? How do they know where to go? We will explore all the mysteries and misconceptions about migration and meet live migratory birds! Learn geography the avian way and come to realize how connected we are to people and cultures across the Western Hemisphere.

Stories that SOAR: Birds in Mythology, Legend, and Storytelling

Hear stories and legends from around the world as we explore the world of our most famous or infamous birds. Meet live birds as we go back in time to discover fact and fiction about our feathered friends.