Library Programs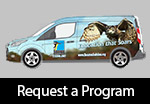 We offer a variety of programs to enhance summer reading programs and special events during the school year. All programs include live animals and lots of audience participation. Let us help your library patrons "go wild" as they explore the natural world!
Pricing: $150 plus mileage, $100 for additional presentation on the same day at the same location. All presentations run a full hour. For more information, contact Mary Anne Weber at maweber@houstonaudubon.org or call 713-640-2407.
Available Topics
Birds, Books, and Beyond

Soar into the world of birds and discover how amazing our feathered friends truly are. This program features live birds, bird song and dance, fun books to look for at your library, and much more! This program is geared for elementary grades and younger audiences.

Silent Hunters

In the dark of night the nocturnal hunters emerge. Owls spend their nights hunting for prey and raising their families. Learn about these silent hunters and meet live owls. This program is perfect for students who are dissecting owl pellets or for audiences who love owls and owls in literature. This is one of our most popular programs. Please call well in advance to schedule.

It's a Jungle Out There!

From the highest of canopies to the dark forest floor, rain forests are teaming with life. Meet live birds and other animals that call the South American rain forest home. Learn about the amazing creatures that share this vanishing habitat and how our Texas birds rely on this special place for their winter home.

Wild About Texas

Flap, crawl, slither, hop and swim on over for this fun program that will introduce library patrons to some fascinating creatures that call Texas home. Live animals, sounds, and lots of interaction will get everyone clamoring for books about wildlife!