Library Programs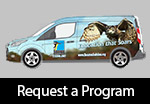 We offer a variety of programs to enhance summer reading programs and special events during the school year. All programs include live animals and lots of audience participation. Let us help your library patrons "go wild" as they explore the natural world!
Pricing: $175 plus mileage, $100 for additional presentation on the same day at the same location. All presentations run a full hour. For more information, contact Mary Anne Weber at maweber@houstonaudubon.org or call 713-640-2407.
Available Topics
Birds, Books, and Beyond

Soar into the world of birds and discover how amazing our feathered friends truly are. This program features live birds, bird song and dance, fun books to look for at your library, and much more! This program is geared for elementary grades and younger audiences.

Give a HOOT!

In the dark of night the nocturnal hunters emerge. Owls spend their nights hunting for prey and raising their families. Learn about these silent hunters and meet live owls. Children's books about owls are also highlighted.

HATCH!

Learn about some of the amazing creatures that hatch from eggs. Meet live examples from the animal kingdom and what characteristics help them survive. From frogs, turtles and snakes to tarantulas and birds, we will discover the world of oviparous creatures together.

HOOT! TWEET! CHIRP!

Birds love to sing and young audiences and folks of all ages will love learning about birds and singing songs about birds. This interactive program features live birds and lots of music. Audiences will leave humming a new tune!