Field Trips to Edith L. Moore Nature Sanctuary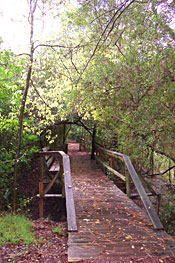 Bridge at Edith Moore
Welcome to the Edith Moore Nature Sanctuary, home of the Houston Audubon Society.
Our sanctuary is an 18-acre oasis of native Texas forest, surrounded by Houston's busy Memorial area. The volunteers of the Audubon Docent Guild provide guided natural history tours of the Sanctuary for all interested groups - school classes, scout troops, garden clubs, etc.
On your field trip, your group will be educated by volunteer Houston Audubon Docents with:
a guided walk in the woods
inquiry-based lessons on native flora and fauna
pond dip-netting for aquatic wildlife
a tour of the 1932 log cabin and biofacts exploration room
an opportunity to meet our education animals
Standard field trips last 1.5 hour, and longer programs are available if requested in advance.
Field trips can be customized to curriculum or scout achievement needs. Common field trip themes include: 
History of Edith Moore Cabin and Sanctuary
Seasons & Cycles
Ecosystem Functions
Native Habitats
Nature's Recyclers
Preserving our Environment
Native American Culture
Insects & Metamorphosis
Animal Adaptations & Diversity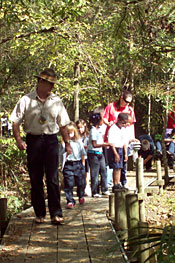 Tour group at Edith Moore
We offer field trips weekdays during school hours, after school, all day Saturday and on Sunday afternoons. Reservations are necessary. We ask a donation of $5.00 per person on the field trip, unless this presents a financial hardship for your group. (No charge for Title I Schools.)
Suitable for all ages, 4 - adult
Scheduled for your individual group - seven days a week, August through May
$5.00 donation per person on field trip, payable in advance
Visit the log cabin, wooded trails and pond habitats of the Edith L. Moore Nature Sanctuary
One to two-hour duration
For more information and to schedule a tour, please contact docent@houstonaudubon.org.