Speaker Events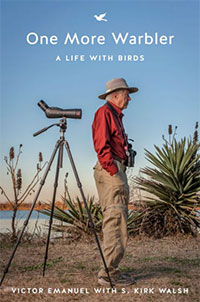 One More Warbler - A Life with Birds
January 11: One More Warbler: A Life with Birds
with Victor Emanuel
This event is free and open to the general public. 
Date: Thursday, January 11, 2018
Time: Social at 7:00 PM and Presentation begins at 7:30 PM
Place: United Way Center, 50 Waugh
Victor Emanuel started birding in Texas 69 years ago at the age of eight. His travels have taken him to all the continents, with his areas of concentration being Texas, Arizona, Mexico, Panama, and Peru. Birds and natural history have been a major focus throughout his life. He derives great pleasure from seeing and hearing birds, and sharing with others these avian sights and sounds, both the common ones and the more unusual ones. He initiated the first birding camps for young people, and considers that one of his greatest achievements.
In May 2017, the University of Texas Press published his memoir, One More Warbler: A Life with Birds. In this book, Victor recalls a lifetime of birding adventures -- from his childhood sighting of a male cardinal that ignited his passion for birds to a once-in-a-lifetime journey to Asia to observe all eight species of cranes of that continent. He tells fascinating stories of meeting his mentors who taught him about birds, nature, and conservation, and later, his close circle of friends -- Ted Parker, Peter Matthiessen, George Plimpton, Roger Tory Peterson, and others -- whom he frequently birded and traveled with around the world. Victor writes about the sighting of an Eskimo Curlew, thought to be extinct, on Galveston Island; setting an all-time national record during the annual Audubon Christmas Bird Count; attempting to see the Imperial Woodpecker in northwestern Mexico; and birding on the far-flung island of Attu on the Aleutian chain. Over the years, Victor became a dedicated mentor himself, teaching hundreds of young people the joys and enrichment of birding. "Birds changed my life," says Victor, and his stories make clear how a deep connection to the natural world can change everyone's life.
Victor holds a B.A. in zoology and botany from the University of Texas and an M.A. in government from Harvard. In 1993, he was the recipient of the Roger Tory Peterson Excellence in Birding Award, given by the Houston Audubon Society in recognition of a lifetime of dedication to careful observation, education, and addition to the body of avian knowledge. In 2004, he received the Roger Tory Peterson Award from the American Birding Association, and the Arthur A. Allen Award from the Cornell Laboratory of Ornithology. He is a past board member of the Nature Conservancy of Texas, the National Audubon Society, the American Bird Conservancy, and the Cornell Lab of Ornithology.
Copies of One More Warbler will be available for purchase at the event. If you'd like to purchase the book but won't be at the event, please contact Nichol Chambers at nchambers@houstonaudubon.org to order a copy.
---
March 8: Purple Martins
with Matt Fendley
---