Speaker Events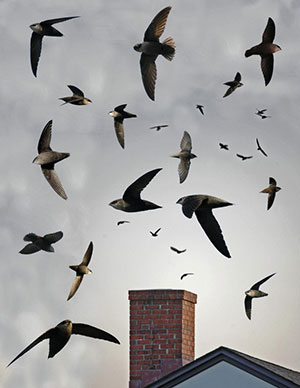 September 13: A Swift Night Out at the Movies
with Sarah Flournoy and Mary Anne Weber
This event is free and open to the public.
Date: Thursday, September 13, 2018
Time: Social in lobby at Matchbox 3 Lobby at 7:00 PM; Presentation at 7:30 PM
Place: Midtown Arts and Theater Center Houston (MATCH), 3400 Main Street, Houston, TX 77002
Houston Audubon's Sarah Flournoy, Bird-Friendly Communities Program Manager, and Mary Ann Weber, Education Director, will give a brief presentation about the importance of conserving Chimney Swift habitat in the city. This short talk will be followed by a movie screening of On the Wing (60 minutes) – a film about Vaux Swifts in Portland and the importance of protecting these birds in our urban landscape.
Chimney Swifts, similar to Vaux Swifts, are birds specialized for high-speed aerial life and can be seen from March through October, when they migrate through our area and stop to rest and raise their young. Like many bird species, Chimney Swifts are declining in numbers and need our help. Because of losses to their natural nest sites, hollowed trees, Chimney Swifts rely almost completely on humans for their nesting and roosting structures.
Learn why Chimney Swift populations are in decline and what Houston Audubon is doing to monitor and protect them as well as how you can help.
---