Speaker Events
May 2022 Speaker Event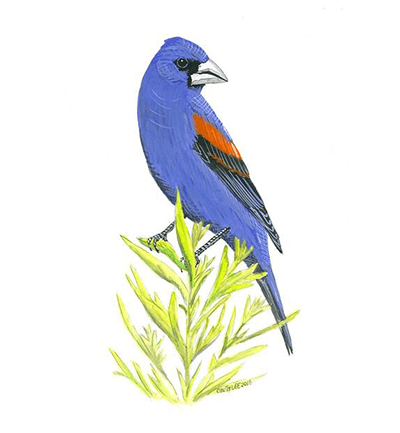 Blue Grosbeak by Cin-Ty Lee
The Dark Migration
with Cin-Ty Lee, Ph.D.
Date: May 12, 2022
Time: Social at 7:00 PM; Presentation at 7:30 PM
Place: United Way, 50 Waugh Drive, Houston, TX 77007
This event is free and open to the public.
Twice a year, with the changing of the seasons, birds across the planet take to the skies to migrate. In the northern spring, birds migrate north to take advantage of the plethora of sunlight and food in the northern latitudes to breed and rear their young. As fall approaches and the length of daylight shortens in the north, these birds migrate south to their wintering grounds near the equator or southern hemisphere, only to repeat this cycle the next spring. Birds have been making these journeys for hundreds of thousands of years. The journey has always been dangerous, but there are more perils today with a landscape transformed by a global human population of 7 billion. Each spring, along the Texas coast, we are graced with the opportunity of seeing these birds in transit, and through the collective efforts of birdwatchers, we have gained a deep understanding of when and where birds migrate, key data needed to help minimize threats during migration. The great majority of birds, however, migrate at night, an invisible migration that we know little about. While nocturnally migrating birds cannot be seen, for reasons unknown, many call as they fly overhead. When Covid appeared on our doorsteps three years ago, we took advantage of the solitude to listen to the skies through continuous acoustic recording. Join us on an acoustic symphony of this invisible migration and how such data reveal new information on the nature of avian migration.
Cin-Ty Lee is the Harry Carothers Wiess Professor of Geology at Rice University. Although he is a geologist, he has been an avid birder for most of his life. He has written numerous articles on bird identification and is in the process of finishing a field guide to the flycatchers of North America.
All current Houston Audubon members are invited to vote on the FY2023 Board of Directors nominees. You can vote in person at this event, or skip the line and vote online! Be sure to bring your membership card if you're voting in person.