Past Speaker Events
---
March 2018
Matt Fendley
March 8: Purple Martins
with Matt Fendley
This event is free and open to the general public.
Date: Thursday, March 8, 2018
Time: Social at 7:00 PM and Presentation begins at 7:30 PM
Place: United Way Center, 50 Waugh
The behavior of Purple Martins has evolved gradually over time to give us the birds we know today. That will be just one of the topics covered by Matt Fendley during his presentation. He will also discuss identification of the distinct age/sex classes, migration data, attraction tips, housing standards, and best management practices.
Matt Fendley currently works for the University of Houston – Clear Lake, where he received his BS in Environmental Management. Mesmerized and obsessed by Purple Martins at a very young age, Matt has been hosting Purple Martins for decades at his home locations, as well as managing a satellite colony at UH-Clear Lake for the past 10 years, which belongs to the Environmental Institute of Houston (EIH). He often volunteers to give Purple Martin presentations at EIH educational program and camps, to both local school kids and adults. He is a current member of the Purple Martin Conservation Association. Though an avid birder in general, his main focus has always been on Purple Martins.
---
January 2018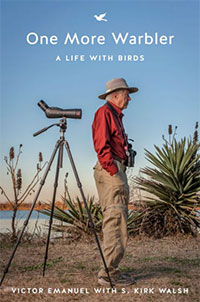 Victor Emanuel
January 11: One More Warbler: A Life with Birds
with Victor Emanuel
This event is free and open to the general public.
Date: Thursday, January 11, 2018
Time: Social at 7:00 PM and Presentation begins at 7:30 PM
Place: United Way Center, 50 Waugh
Victor Emanuel started birding in Texas 69 years ago at the age of eight. His travels have taken him to all the continents, with his areas of concentration being Texas, Arizona, Mexico, Panama, and Peru. Birds and natural history have been a major focus throughout his life. He derives great pleasure from seeing and hearing birds, and sharing with others these avian sights and sounds, both the common ones and the more unusual ones. He initiated the first birding camps for young people, and considers that one of his greatest achievements.
In May 2017, the University of Texas Press published his memoir, One More Warbler: A Life with Birds. In this book, Victor recalls a lifetime of birding adventures -- from his childhood sighting of a male cardinal that ignited his passion for birds to a once-in-a-lifetime journey to Asia to observe all eight species of cranes of that continent. He tells fascinating stories of meeting his mentors who taught him about birds, nature, and conservation, and later, his close circle of friends -- Ted Parker, Peter Matthiessen, George Plimpton, Roger Tory Peterson, and others -- whom he frequently birded and traveled with around the world. Victor writes about the sighting of an Eskimo Curlew, thought to be extinct, on Galveston Island; setting an all-time national record during the annual Audubon Christmas Bird Count; attempting to see the Imperial Woodpecker in northwestern Mexico; and birding on the far-flung island of Attu on the Aleutian chain. Over the years, Victor became a dedicated mentor himself, teaching hundreds of young people the joys and enrichment of birding. "Birds changed my life," says Victor, and his stories make clear how a deep connection to the natural world can change everyone's life.
Victor holds a B.A. in zoology and botany from the University of Texas and an M.A. in government from Harvard. In 1993, he was the recipient of the Roger Tory Peterson Excellence in Birding Award, given by the Houston Audubon Society in recognition of a lifetime of dedication to careful observation, education, and addition to the body of avian knowledge. In 2004, he received the Roger Tory Peterson Award from the American Birding Association, and the Arthur A. Allen Award from the Cornell Laboratory of Ornithology. He is a past board member of the Nature Conservancy of Texas, the National Audubon Society, the American Bird Conservancy, and the Cornell Lab of Ornithology.
Copies of One More Warbler will be available for purchase at the event. If you'd like to purchase the book but won't be at the event, please contact Nichol Chambers at nchambers@houstonaudubon.org to order a copy.
---
November 2017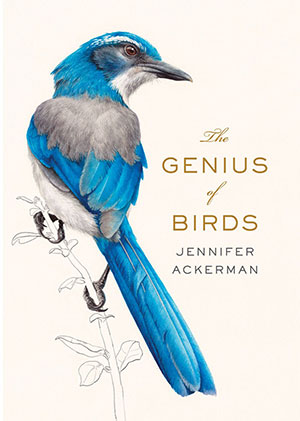 The Genius of Birds by Jennifer Ackerman
Date: Thursday, November 9, 2017
Time: Social at 7:00 PM and Presentation begins at 7:30 PM in Matchbox 4. Book signing immediately following the presentation. 
Place: Midtown Arts and Theater Center Houston (the MATCH) - 3400 Main Street, Houston TX 77002
Parking Details on the MATCH website >>
Thank you to our Host Committee for this event:
Jan Cato

Henrietta Alexander

Lucia Benton

Cullen Geiselman

Emily Todd
If you were to divide the animal world into the smart and the not-so-smart, you might put birds squarely in the "dim bulb" category.  For decades, people have written off birds as largely witless, driven solely by instinct, and their brains as primitive, capable of only the simplest mental processes.  But it is not so. This book explores the new view of birds as "thinkers"—cunning, playful, witty, greedy, cranky, joyful, competitive.  It looks at the intelligence of birds within the context of easily observed behavior in our own surroundings and brings to it the latest science from lab and field.
Jennifer Ackerman has been writing about science and nature for 30 years. Her most recent book, The Genius of Birds (Penguin Press, April 2016), explores the intelligence of birds. A contributor to Scientific American, National Geographic, The New York Times, and many other publications, Jennifer is the recipient of numerous awards and fellowships, including an NEA Literature Fellowship in Nonfiction, a Bunting Institute Fellowship, and a grant from the Alfred P. Sloan Foundation.  Her articles and essays have been included in several anthologies, among them Best American Science Writing, The Nature Reader, Best Nature Writing, Flights of Imagination: Extraordinary Writings About Birds, and The Penguin Book of the Ocean.  Jennifer's work aims to explain and interpret science for a lay audience and to explore the riddle of humanity's place in the natural world, blending scientific knowledge with imaginative vision.
Pre-order your copy at bluewillowbookshop.com. 15% of the sales will be donated to Houston Audubon.
---