Past Speaker Events 2019
---
January 2019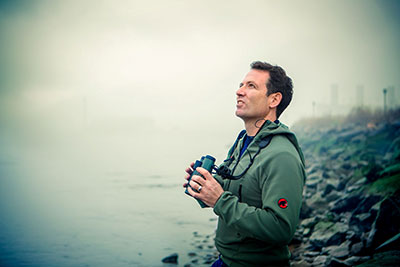 January 10: BirdCast - Perspectives on Bird Migration in North America with Andrew Farnsworth
This event is free and open to the public.
Date: Thursday, January 10, 2019
Time: Social at 7:00 PM; Presentation at 7:30 PM
Place: United Way, 50 Waugh Drive, Houston, TX 77007
Bird migration is a spectacular global phenomenon that has long captured the attention of human observers, but it wasn't until the turn of the 20th century that ornithologists realized the magnitude of migration that occurred at night. Now, several technologies have advanced sufficiently to allow us to achieve new understandings of the characteristics of nocturnal bird migration across a broad range of scales in new and different ways. 
The BirdCast project is a collaborative effort between ornithologists and computer scientists to further our understanding of the biology of bird migration by using state-of-the-art machine learning and computer science techniques in combination with data collected with remote sensing methods, like radar and acoustic monitoring, to achieve these understandings. Dr. Andrew Farnsworth from the Cornell Lab of Ornithology directs this project, and he will be speaking about some of the novel insights gleaned so far from this fascinating project.
Dr. Andrew Farnsworth began birding at age 5 in Rye, NY. He quickly developed a fascination for bird migration and has been fortunate to turn his passion into a career. Andrew is a research associate in the Information Science and Technology program at the Cornell Lab of Ornithology and the project leader for BirdCast and BirdVox. 
His primary research focus is the study of nocturnal bird migration using remote sensing techniques. These techniques include: 
The use of microphones and autonomous recording systems for acoustic monitoring of flight calls. 
Weather surveillance radars (marine to WSR-88D) to study densities of birds aloft at night. 
Thermal and closed circuit video cameras to study movements of birds in urban areas.
Dr. Farnsworth received his MS Zoology from Clemson, under Dr. Sidney Gauthreaux, and his PhD from Cornell, under Dr. John Fitzpatrick. He is also a musician, though it's not quite his night gig given his research. Andrew lives in New York, NY with his wife Patricia and daughters Aja and Elle (but all of their hearts are in Texas).
---