Past Speaker Events 2019
---
November 2019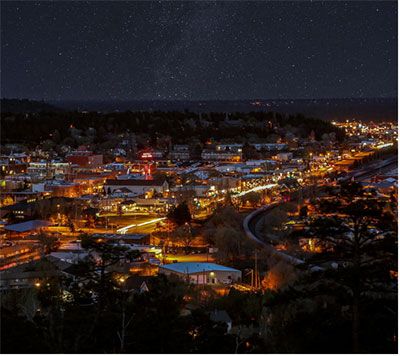 Flagstaff, Arizona uses narrow-band amber lighting to protect its dark night sky
Light Right to Bring Back the Night

with Deborah Moran
Date: November 14, 2019
Time: Social at 7:00 PM; Presentation at 7:30 PM
Place: United Way, 50 Waugh Drive, Houston, TX 77007
This event is free and open to the public. Please register so we have an idea of how many are attending.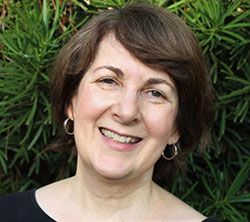 The focus of this presentation will be on light pollution and the adverse impact from unshielded light on plants, animals and humans, including glare and visibility problems and health effects. Deborah will discuss the threat of the proliferation of bright white street lighting and present solutions that double down on the advantages of LED light. We will learn how to light with minimum impact for greater visibility at the least energy use and where to buy good quality lighting.
Deborah Moran has had a lifelong interest in astronomy since her childhood in Midland, Texas where all the scenery is in the sky. She has been a long-time member of the Houston Astronomical Society where she has served in a number of capacities. She also participates in outreach programs and is a volunteer telescope operator at the George Observatory in Brazos Bend State Park. She retired from the Houston Symphony after 27 years in the violin section.
Deborah is the 2017 recipient of the International Dark-Sky Association's Hoag-Robinson Award for education of government officials about outdoor lighting issues. In 2010, her Woodside neighborhood became the first one within the Houston city limits allowed to install low-glare fully shielded decorative streetlights. For the past four years she has presented concerns about the choice of high-glare white LED street lights in Houston to city officials and hopes that the Houston area will someday join other communities in moving to warm, soft-white or amber LEDs which are recommended by the American Medical Association for their reduced glare and reduced disruption of day/night circadian function. She has also lobbied for a lighting ordinance or education program to reduce security light glare. Deborah created the website softlighthouston.com to educate citizens on lighting issues. The site prompted the Houston Police Department to recommend soft shielded lighting.
---
May 2019
Birding Then and Now
with Fred Collins and Bob Honig
Date: May 30, 2019 (rescheduled from May 9)
Time: Social at 7:00 PM; Presentation at 7:30 PM
Place: United Way, 50 Waugh Drive, Houston, TX 77007
This event is free and open to the public. Please register so we have an idea of how many are attending. The Houston Audubon board election will precede the presentation.
How has Houston area birding changed in 50 years?  Relying significantly on the Houston Ornithology Group's 1968 "Good Birding Trips" guide, Fred's firsthand perspective, and Bob's analysis of satellite imagery, our speakers will explore changes over time at popular birding locations: some that birders visited 50 years ago but have disappeared, some current hot spots that were not available to birders 50 years ago, and some that birders have frequented for the past 50 years and more. The presentation will include White Memorial Park, High Island, Bolivar Flats, Galveston Island, the Katy Prairie and prairies on the west side of Galveston Bay, plus more. It's a story that documents the overall loss of valuable habitat over the years as well as more recent protection of and public access to sites important to birds.
Houston native Fred Collins made his first year list in 1962 and has kept one every year since. He earned a B.S. in Wildlife Science and attended graduate school at Texas A&M, where he studied wintering Wilson's Snipes. From 1994 to 2002 he served as Director of Russ Pitman Park's Nature Discovery Center. Since 2002 he has been Regional Park Manager for Harris County Precinct 3, where he developed and is currently director of both Kleb Woods Nature Center and Cypress Top Historic Park. He sits on advisory boards for Houston Audubon and the Katy Prairie Conservancy, and he is Compiler of the Cypress Creek CBC. As a member of the Texas State Historical Association and a life member of TOS and the Southwestern Association of Naturalists, Fred continues his passion for birding Texas and learning about the history of both its wildlife and its people. He and his wife live on 100 acres of the Katy Prairie with 4 dogs, 9 horses, 100 free-ranging chickens, and 50 parrots. While the nest isn't exactly empty, their two sons have long since fledged.
Bob Honig has spent many years observing and studying natural history, particularly birds, dragonflies, and damselflies.  He is a member of the Advisory Board of the Katy Prairie Conservancy, after having served on its Board of Directors for 25 years.  He is a past Chairman of the Ornithology Group of Houston's Outdoor Nature Club and a former Compiler of the Buffalo Bayou and Brazos Bend Christmas Bird Counts.  Professionally, as an environmental consultant, he has addressed such diverse issues as endangered species, wetlands, archaeology, recycling, and sustainable development, and performed numerous bird surveys.His work has taken him throughout North America and has included environmental surveys in Bolivia and the Algerian Sahara.  Bob has led — often with his wife, Maggie — numerous field trips/tours throughout the Houston area, elsewhere in Texas, to Glacier National Park in Montana, and to the Asa Wright Nature Centre in Trinidad; and they have been part of Earthwatch expeditions to study caterpillars and their parasitoids in Costa Rica, sustainable watershed management in California, and Flammulated Owls in Utah.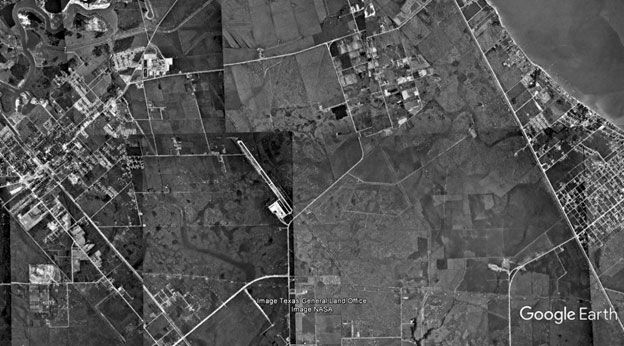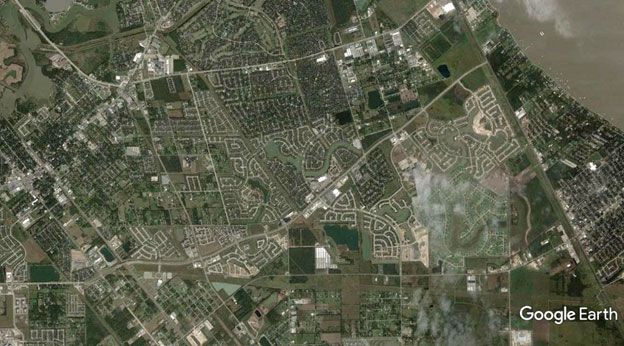 ---
March 2019
Midway Atoll: The Effect of Plastic Pollution on Birds
with Anna Vallery
Date: Thursday, March 14, 2019
Time: Social at 7:00 PM; Presentation at 7:30 PM
Place: United Way, 50 Waugh Drive, Houston, TX 77007
This event is free and open to the public. Please register so we have an idea of how many are attending.
Despite being thousands of miles from civilization, plastic pollution from Asia and the Americas constantly washes up on the pristine shores of Midway. Plastic is found in the stomachs of the many birds that call the atoll home. Houston Audubon Conservation Specialist Anna Vallery spent six months on Midway Atoll National Wildlife Refuge in 2015 as a biological science intern. She immediately fell in love with the habitat, the wildlife, and, of course, the seabirds. But during her time there she was faced with the harsh reality that human activity has impacted even the most remote locations. Midway has since become the heart of the plastic pollution movement and is inspiring cities far away, like Houston, to do better.
Anna Vallery is a Conservation Specialist with Houston Audubon. She runs the Natives Nursery, manages two northern sanctuaries, and helps with the Bird-Friendly Communities Program. Her love of wildlife is life-long, but she discovered her love of birds during an internship on Midway Atoll working with Laysan Albatross. Since then, Anna has completed a master's degree studying Galveston Bay's shorebirds, seabirds, and wading birds and is now surrounding herself with all the bird knowledge Houston Audubon has to offer.
---
January 2019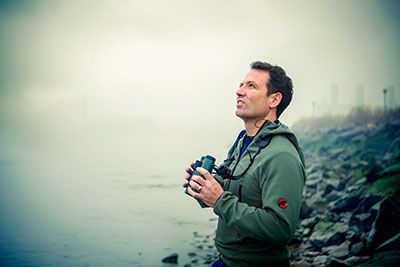 January 10: BirdCast - Perspectives on Bird Migration in North America with Andrew Farnsworth
This event is free and open to the public.
Date: Thursday, January 10, 2019
Time: Social at 7:00 PM; Presentation at 7:30 PM
Place: United Way, 50 Waugh Drive, Houston, TX 77007
Bird migration is a spectacular global phenomenon that has long captured the attention of human observers, but it wasn't until the turn of the 20th century that ornithologists realized the magnitude of migration that occurred at night. Now, several technologies have advanced sufficiently to allow us to achieve new understandings of the characteristics of nocturnal bird migration across a broad range of scales in new and different ways. 
The BirdCast project is a collaborative effort between ornithologists and computer scientists to further our understanding of the biology of bird migration by using state-of-the-art machine learning and computer science techniques in combination with data collected with remote sensing methods, like radar and acoustic monitoring, to achieve these understandings. Dr. Andrew Farnsworth from the Cornell Lab of Ornithology directs this project, and he will be speaking about some of the novel insights gleaned so far from this fascinating project.
Dr. Andrew Farnsworth began birding at age 5 in Rye, NY. He quickly developed a fascination for bird migration and has been fortunate to turn his passion into a career. Andrew is a research associate in the Information Science and Technology program at the Cornell Lab of Ornithology and the project leader for BirdCast and BirdVox. 
His primary research focus is the study of nocturnal bird migration using remote sensing techniques. These techniques include: 
The use of microphones and autonomous recording systems for acoustic monitoring of flight calls. 
Weather surveillance radars (marine to WSR-88D) to study densities of birds aloft at night. 
Thermal and closed circuit video cameras to study movements of birds in urban areas.
Dr. Farnsworth received his MS Zoology from Clemson, under Dr. Sidney Gauthreaux, and his PhD from Cornell, under Dr. John Fitzpatrick. He is also a musician, though it's not quite his night gig given his research. Andrew lives in New York, NY with his wife Patricia and daughters Aja and Elle (but all of their hearts are in Texas).
---