Past Speaker Events 2018
---
November 2018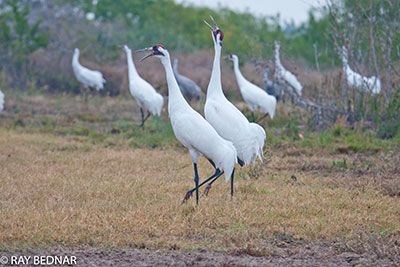 November 8: Fantastic Cranes and Where to Find Them
with Ray Bednar
This event is free and open to the public.
Date: Thursday, November 8, 2018
Time: Social at 7:00 PM; Presentation at 7:30 PM
Place: United Way, 50 Waugh Drive, Houston, TX 77007
Join us to learn about Sandhill and Whooping Cranes and where to find these beautiful birds in the United States. Ray Bednar is an amateur photographer who loves discovering new places to photograph nature. He has been developing his photography skills for 10 years and his favorite subjects are Sandhill and Whooping Cranes. Ray will talk about cranes and amazing places to photograph them in Nebraska, New Mexico and Texas. He will provide tips on viewing and photographing cranes. Hear about Ray's experiences and see his best crane shots at this informative talk.
---
September 2018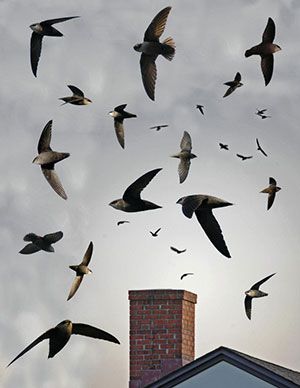 September 13: A Swift Night Out at the Movies
with Sarah Flournoy and Mary Anne Weber
This event is free and open to the public.
Date: Thursday, September 13, 2018
Time: Social in lobby at Matchbox 3 Lobby at 7:00 PM; Presentation at 7:30 PM
Place: Midtown Arts and Theater Center Houston (MATCH), 3400 Main Street, Houston, TX 77002
Houston Audubon's Sarah Flournoy, Bird-Friendly Communities Program Manager, and Mary Ann Weber, Education Director, will give a brief presentation about the importance of conserving Chimney Swift habitat in the city. This short talk will be followed by a movie screening of On the Wing (60 minutes) – a film about Vaux Swifts in Portland and the importance of protecting these birds in our urban landscape.
Chimney Swifts, similar to Vaux Swifts, are birds specialized for high-speed aerial life and can be seen from March through October, when they migrate through our area and stop to rest and raise their young. Like many bird species, Chimney Swifts are declining in numbers and need our help. Because of losses to their natural nest sites, hollowed trees, Chimney Swifts rely almost completely on humans for their nesting and roosting structures. Learn why Chimney Swift populations are in decline and what Houston Audubon is doing to monitor and protect them as well as how you can help.
---
May 2018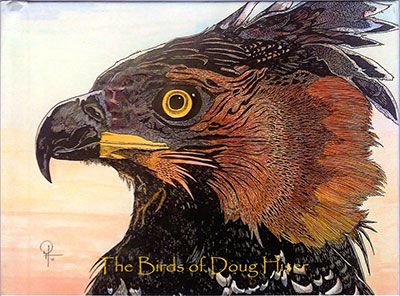 May 10: Bird Artistry in the Wild
with Doug Hiser
This event is free and open to the general public. The Houston Audubon board election will precede the program.
Date: Thursday, May 10, 2018
Time: Social at 7:00 PM and Presentation begins at 7:30 PM
Place: United Way Center, 50 Waugh
This presentation will consist of an in depth lecture on birds and wildlife safaris from Africa, Australia, South America, Nepal and the Galapagos Islands. Doug will discuss the artistic process he developed from safari, field sketches, and photography to the final works of art, ink, or painting. He will also highlight the step-by-step creative process to build a beautiful composition, while maintaining the realism of nature.
Doug Hiser is at home in nature and creates the natural world filled with exotic birds and beasts that roam the edges of our imagination from the remote landscapes of Africa, Brazil, Australia, and Asia. He is an avid birder, naturalist, adventurer, explorer, author of 24 books, and a professional wildlife artist. In his spare time he also teaches High School Art in Houston. Student of the Year at University of Houston CL and also Distinguished Alumni 2012, he has won numerous art awards and preaches about our vanishing world, capturing moments of exotic wildlife on canvas so that we all may appreciate the world that he loves, the "painted jungles" of Doug Hiser. Learn more about Doug on his website -- Doug Hiser: Artistry in the Wild.
---
March 2018
March 8: Purple Martins
with Matt Fendley
This event is free and open to the general public.
Date: Thursday, March 8, 2018
Time: Social at 7:00 PM and Presentation begins at 7:30 PM
Place: United Way Center, 50 Waugh
The behavior of Purple Martins has evolved gradually over time to give us the birds we know today. That will be just one of the topics covered by Matt Fendley during his presentation. He will also discuss identification of the distinct age/sex classes, migration data, attraction tips, housing standards, and best management practices.
Matt Fendley currently works for the University of Houston – Clear Lake, where he received his BS in Environmental Management. Mesmerized and obsessed by Purple Martins at a very young age, Matt has been hosting Purple Martins for decades at his home locations, as well as managing a satellite colony at UH-Clear Lake for the past 10 years, which belongs to the Environmental Institute of Houston (EIH). He often volunteers to give Purple Martin presentations at EIH educational program and camps, to both local school kids and adults. He is a current member of the Purple Martin Conservation Association. Though an avid birder in general, his main focus has always been on Purple Martins.
---
January 2018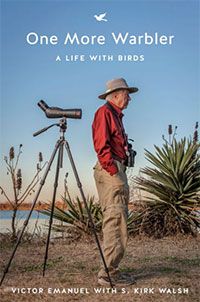 January 11: One More Warbler: A Life with Birds
with Victor Emanuel
This event is free and open to the general public.
Date: Thursday, January 11, 2018
Time: Social at 7:00 PM and Presentation begins at 7:30 PM
Place: United Way Center, 50 Waugh
Victor Emanuel started birding in Texas 69 years ago at the age of eight. His travels have taken him to all the continents, with his areas of concentration being Texas, Arizona, Mexico, Panama, and Peru. Birds and natural history have been a major focus throughout his life. He derives great pleasure from seeing and hearing birds, and sharing with others these avian sights and sounds, both the common ones and the more unusual ones. He initiated the first birding camps for young people, and considers that one of his greatest achievements.
In May 2017, the University of Texas Press published his memoir, One More Warbler: A Life with Birds. In this book, Victor recalls a lifetime of birding adventures -- from his childhood sighting of a male cardinal that ignited his passion for birds to a once-in-a-lifetime journey to Asia to observe all eight species of cranes of that continent. He tells fascinating stories of meeting his mentors who taught him about birds, nature, and conservation, and later, his close circle of friends -- Ted Parker, Peter Matthiessen, George Plimpton, Roger Tory Peterson, and others -- whom he frequently birded and traveled with around the world. Victor writes about the sighting of an Eskimo Curlew, thought to be extinct, on Galveston Island; setting an all-time national record during the annual Audubon Christmas Bird Count; attempting to see the Imperial Woodpecker in northwestern Mexico; and birding on the far-flung island of Attu on the Aleutian chain. Over the years, Victor became a dedicated mentor himself, teaching hundreds of young people the joys and enrichment of birding. "Birds changed my life," says Victor, and his stories make clear how a deep connection to the natural world can change everyone's life.
Victor holds a B.A. in zoology and botany from the University of Texas and an M.A. in government from Harvard. In 1993, he was the recipient of the Roger Tory Peterson Excellence in Birding Award, given by the Houston Audubon Society in recognition of a lifetime of dedication to careful observation, education, and addition to the body of avian knowledge. In 2004, he received the Roger Tory Peterson Award from the American Birding Association, and the Arthur A. Allen Award from the Cornell Laboratory of Ornithology. He is a past board member of the Nature Conservancy of Texas, the National Audubon Society, the American Bird Conservancy, and the Cornell Lab of Ornithology.
Copies of One More Warbler will be available for purchase at the event. If you'd like to purchase the book but won't be at the event, please contact Nichol Chambers at nchambers@houstonaudubon.org to order a copy.
---