Past Speaker Events 2017
---
November 2017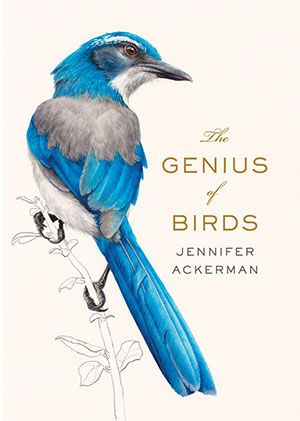 The Genius of Birds by Jennifer Ackerman
Date: Thursday, November 9, 2017
Time: Social at 7:00 PM and Presentation begins at 7:30 PM in Matchbox 4. Book signing immediately following the presentation.
Place: Midtown Arts and Theater Center Houston (the MATCH) - 3400 Main Street, Houston TX 77002
Parking Details on the MATCH website >>
Thank you to our Host Committee for this event:
Jan Cato

Henrietta Alexander

Lucia Benton

Cullen Geiselman

Emily Todd
If you were to divide the animal world into the smart and the not-so-smart, you might put birds squarely in the "dim bulb" category. For decades, people have written off birds as largely witless, driven solely by instinct, and their brains as primitive, capable of only the simplest mental processes. But it is not so. This book explores the new view of birds as "thinkers"—cunning, playful, witty, greedy, cranky, joyful, competitive. It looks at the intelligence of birds within the context of easily observed behavior in our own surroundings and brings to it the latest science from lab and field.
Jennifer Ackerman has been writing about science and nature for 30 years. Her most recent book, The Genius of Birds (Penguin Press, April 2016), explores the intelligence of birds. A contributor to Scientific American, National Geographic, The New York Times, and many other publications, Jennifer is the recipient of numerous awards and fellowships, including an NEA Literature Fellowship in Nonfiction, a Bunting Institute Fellowship, and a grant from the Alfred P. Sloan Foundation. Her articles and essays have been included in several anthologies, among them Best American Science Writing, The Nature Reader, Best Nature Writing, Flights of Imagination: Extraordinary Writings About Birds, and The Penguin Book of the Ocean. Jennifer's work aims to explain and interpret science for a lay audience and to explore the riddle of humanity's place in the natural world, blending scientific knowledge with imaginative vision.
Pre-order your copy at bluewillowbookshop.com. 15% of the sales will be donated to Houston Audubon.
---
September 2017
Climate Change with Jim Blackburn
In Texas and Houston, we seldom talk honestly about climate change, perhaps because so many receive their livelihoods from fossil fuels.  Our failure to have honest dialogue has and will hurt our community in many ways.  We all should know about changes that already have occurred and those that are likely to occur.  Denial is the enemy of intelligent action.  There are solutions to the worst of these problems – solutions that restore nature and move the human economy toward the natural cycles of the Earth, resulting in a circular economy that is the hope for the future of birds and people alike.  
Jim Blackburn is a Professor in the Practice of Environmental Law in the Civil and Environmental Engineering Department at Rice University and Co-Director of the Severe Storm Prediction, Education and Evacuation from Disasters (SSPEED) Center, an environmental lawyer with the Blackburn Carter Law Firm, and the owner of Sustainable Planning and Design, a planning firm.  His new book – A Texan Plan for the Texas Coast – will be released in fall, 2017 by Texas A&M Press. Jim also wroteThe Book of Texas Bays (Texas A&M Press, 2004) and he has co-authored a book of poems and paintings titled Birds: A Book of Verse and Vision.
---