Mindful Mornings in the Forest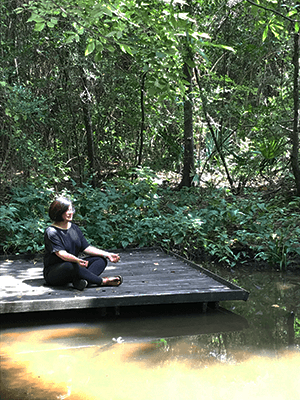 Mindful Mornings at Edith L. Moore Nature Sanctuary provide restorative time in nature to find respite from our hectic lives! Led by mindfulgreen's Heather Sullivan, the mindfulness practice begins with a guided 30-minute lesson and meditation. Then we'll each go to a quiet spot in the forest to practice simply being mindful not mind-full. We'll meet back at the cabin for tea made from the local trees and to share our experience in nature. Participants are welcome to extend their mindful time in the forest as well.
COVID Health Check considerations:
We continue to comply with local and federal regulations and CDC recommendations and the understanding that some people still have not been vaccinated. We have modified the format of this program so that we can hold it safely and not put our participants at risk, however we need complete agreement of all participants to abide by our new policies for these strategies to be effective.
Here are the ways we've changed the program:
The entire program will take place outdoors, either on the porch of the cabin or on the trails.
When gathering as a group seats will be spaced 6' apart outdoors.
Houston Audubon will have extra masks and hand sanitizer available.
Individuals who are vaccinated should comply with any measures necessary to help ensure the health and safety of all.
What we expect from participants:
Before each session you should do a self-health check and ensure that you can answer "no" to each of the following:
Within the past 2 weeks, have you come into contact with a person who is/was positive for COVID-19?*
Do you currently have a fever (>99.9 degrees)?*
Do you have a new or worsening cough or shortness of breath/difficulty breathing?*
Do you have two or more of the following: chills, repeated shaking with chills, muscle pain, headache, sore throat, new loss of taste or smell, or diarrhea?*
*If you answer yes to any of these questions you must not come to class.
Unvaccinated participants must also bring masks to have on hand for the group portion of the program, when interacting with the instructor or other participants. While you are forest bathing you will be on your own and will not need to wear a mask.
---
Inspired by the "Forest Bathing" movements in South Korea and Japan, more and more nature centers like ours are offering programs that provide restorative time in nature, helping us to reground and find respite from our modern, hectic lives.  
Mindfulness is a powerful but simple tool - focusing one's awareness on the present moment, while calmly acknowledging and accepting one's feelings, thoughts, and bodily sensations. This powerful therapeutic technique is even more powerful when practiced in nature, lowering blood pressure, stress hormone levels, and heart rate.  "Nature is always here and now. Your breath, your senses, anything around you. When you are being aware of the life within you and around you, you are being mindful of this present moment, and it will always calm you down. You cannot do nature, you can just be there. Being is calming." - Dr. Bjarte Stubhaug is a Norwegian psychiatrist and mindfulness-expert.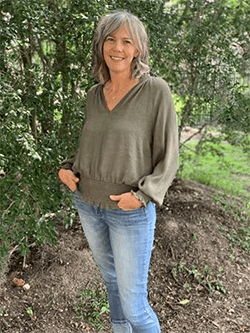 About the Instructor
Heather has trained with Mindful Schools, the UCLA marc Program, and is a certified mindfulness instructor by Jack Kornfield and Tara Brach through the Awareness Training Institute and the Greater Good Science Center at the University of California at Berkeley. She is also a member of the International Mindfulness Teachers Association. You can follow her on Instagram @mindfulgreenhouston or Facebook @mindfulgreen. To contact Heather, please email mindfulgreenhouston@gmail.com.