Mindful Mondays in the Forest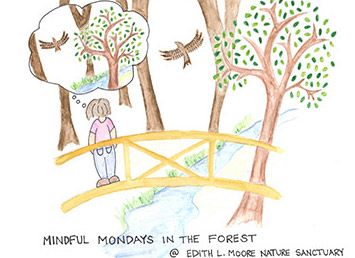 Save the date and mark your calendars for our spring session, February 22 through April 19, with no class held on March 15.
Join us for weekly mindfulness classes!  Mindful Mondays at Edith L. Moore Nature Sanctuary are coming back in 2021! We've made some changes this year to keep our participants safe from COVID-19. The event will be held entirely outdoors, with an option to sign up for the 8-week series as an online Zoom participant. Tea will not be served, and participants will be required to wear masks when interacting with each other and our wonderful instructor Heather Sullivan.
Classes will be held on Mondays from 9:15 AM to 10:15 AM from February 22 to April 19, 2021. There is no class on Monday, March 15. Please check the registration link for details on health considerations.
Inspired by the "Forest Bathing" movements in South Korea and Japan, more and more nature centers like ours are offering programs that provide restorative time in nature, helping us to reground and find respite from our modern, hectic lives.  
Mindfulness is a powerful but simple tool - focusing one's awareness on the present moment, while calmly acknowledging and accepting one's feelings, thoughts, and bodily sensations. This powerful therapeutic technique is even more powerful when practiced in nature, lowering blood pressure, stress hormone levels and heart rate.  "Nature is always here and now. Your breath, your senses, anything around you. When you are being aware of the life within you and around you, you are being mindful of this present moment, and it will always calm you down. You cannot do nature, you can just be there. Being is calming." - Dr. Bjarte Stubhaug is a Norwegian psychiatrist and mindfulness-expert.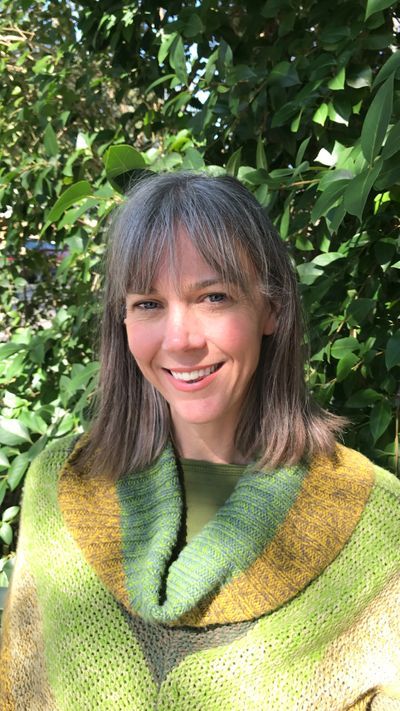 About Our Instructor
Heather has lived in California, Colorado and Oklahoma, but is a native Texan as she grew up in Fort Worth. She has been meditating for over nine years. In 2016 she took the Mindfulness Fundamentals course, and the Mindful Educator Essentials course through  www.mindfulschools.org. She is trained in the Mindful Schools curriculum. She has also furthered her coursework with the Mindful Communications class through Mindful Schools, and the MAPs or Mindful Awareness Practice Class through the UCLA marc program.  She is constantly looking to continue her education in mindfulness and is currently enrolled in a two year certification for teaching awareness and compassion-based practices with Jack Kornfield & Tara Brach affiliated with Sounds True Meditation, Greater Good Science Center, & Awareness Training Institute.
Heather is passionate about teaching kids and adults the tools to cope with stress and develop a more mindful approach to life in order to nurture a positive state of mind. She currently teaches mindfulness classes in schools, nature centers, and corporate settings throughout Houston. You can read more about Heather on her blog, mindfulgreen.