Birding Classes
With Glenn Olsen
Class Advisory
Classes will be offered remotely online. Class participation is welcomed and recommended. If a class includes a field trip component, these are planned in recognition of the current virus conditions. Consequently, we will follow certain safety measures for everyone's benefit. These include wearing masks, everyone traveling in their own vehicle, physical distancing (6 feet or more). Other measure may be added if needed.
Additionally, if conditions worsen the field trip may be rescheduled to a future date. If you cannot attend the field trip, you will have a credit for any future class field trip of your choosing. In registering for the class you agree to follow these safety procedures and follow the instructor's guidance on the trip.

---
Gulf Coast Birding
at the Glasscock School of Continuing Studies at Rice University.
Learn to identify birds throughout the Texas Gulf Coast region in this online introduction to birding with master naturalist and birding expert Glenn Olsen. A world-renowned area for birding, the Texas Gulf Coast is home to a great number and variety of beautiful birds. The roseate spoonbill, the yellow-crowned night heron, the American avocet, the scissor-tailed flycatcher and the peregrine falcon are just a few examples of birds that can be found either in Houston or within a short drive. Learn about principles of bird identification; migrant, resident and wintering birds; prime locations and times to bird-watch in our region; habitat needs of birds; and steps you can take to support birds in our region. Co-sponsored by Houston Audubon. Six classes on Monday, 2-2:30 PM, beginning on February 22, 2021. 
---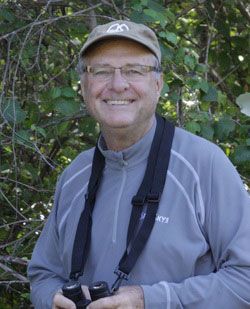 Instructor
Glenn Olsen leads natural history and birding tours with GOBirding Ecotours and teaches bird identification, gardening for birds and butterflies, and nature-related classes through Rice University's Glasscock School of Continuing Studies, Houston Audubon, Katy Prairie Conservancy, and the Texas Master Naturalist program. He has served on the Houston Audubon Board as Vice President of Education and also served as an Audubon Warden monitoring colonial nesting birds in Rockport, TX. Two of his many other efforts towards conservation include monitoring endangered Attwater's Prairie Chickens at the Nature Conservancy's Texas City Preserve and co-founding the Wildscapes Workshop through the Native Plant Society of Texas (NPSOT) where he served as president of both the Houston Chapter and the State NPSOT. He has led field trips and/or given programs for meetings of the Texas Ornithological Society, Houston Audubon, Houston Arboretum, the Native Plant Society of Texas, Rio Grande Valley Birding Festival, Rockport Hummer/Bird Festival, Galveston FeatherFest, and other groups and festivals.  Glenn has led trips to such exotic locales as Ecuador, the Galapagos Islands, Amazon Rainforest, Costa Rica and the hottest birding locations in the U.S. Contact Glenn at h.glenn.olsen@gmail.com or 832-517-2478.
---
Testimonials:
Introduction to Birding Class:
The class and field trip conducted by Glenn Olsen was outstanding.  The program exceeded my expectations.  Mr. Olsen is a master.  He was able to patiently cater to a novice like myself and to those in the group with more birding knowledge and experience.  He showered us with his knowledge and love of birding and nature.  I learned so much.  It was my good fortune.  Thank you and the society for your association with Mr. Olsen.
-- Carol Devine
Waterfowl Class:
I want to take a second to say how much I enjoyed Glenn Olsen's - Waterfowl course last week. While the weather was less than ideal, the birds and beauty that I was introduced to far surpassed any inconvenient weather issues. Being a backpacker, runner, bicyclist, photographer, and general outdoor-ist, I was amazed to find out that I have missed so much in viewing birds in their natural habitat. I had looked at birds, but not really 'seen' the birds. Glenn's course opened my eyes to a world I had been looking past. I highly recommend any of Glenn's courses. I was at first a little intimidated by my lack of bird knowledge, not just compared to Glenn Olsen's (which was to be expected) but to the group in general. Glenn and the group of experienced birders, which was probably 75% of the group, made me feel right at home and were helpful and encouraging to this total novice. I walked away feeling that Birders are Good People and this will not be my last Audubon event.
-- Tim Brooking
Spiffy Sparrows Class:
I wanted to let Houston Audubon know what a wonderful experience Glenn Olsen's class and field trip were this last week. Glenn is a tremendous, patient teacher, and so very passionate about birding. Thanks to Houston Audubon and Glenn for a great learning opportunity!
-- Sherri Taxman