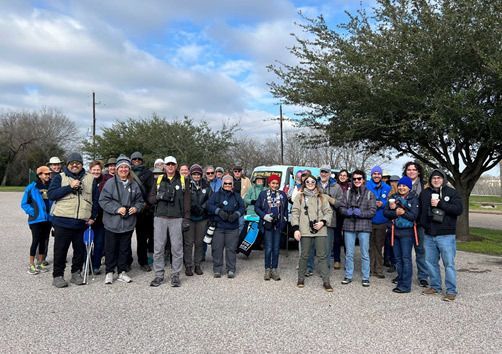 As the waning snow moon sank deep on the horizon the first songs of the cardinal could be heard piercing the morning sky. The time had come for the annual competition that puts the B in bird and pits the birdwatchers from two hallowed teams against each other in one epic all out birding event.
The wind and cold would not deter our hearty players. As they approached the line of play (donuts) it was clear this would be a Super Bird not easily forgotten. The players all took one last chance to fuel up on donuts before dividing into the two teams. The Superb Owls were led by Coach Kelsey and the Gridiron Goatsuckers were led by Coach Mary Anne. With phones in hand, both coaches hit "start checklist" at exactly 10 at the line of scrimmage. The teams dispersed down the beckoning trails as kinglets, chickadees and warblers tweeted and chirped their presence on the field of play. The rules of the game are simple. 2 hours, 2 teams and lists must be submitted in the parking lot at exactly noon. The team with the most species wins fame and glory. There is no fraternizing with the other team but players may try to confuse players on the opposing team by sending them on "wild goose" chases for rare species in the bushes.
Both teams were quickly logging an incredible number of species in the first 30 minutes. From coots to cormorants and a soaring eagle the players were racking up the species very quickly. As the appointed time to turn towards the end zone (parking lot) approached the goatsuckers went for a blitz and sent players up the hill in search of pipits and scaup. The play payed off and more species were tallied. The owls also had some great plays with a handy "audible" that scored a Vesper Sparrow and a "lateral" to get a Spotted Sandpiper.
At high noon the teams met once again at the line of donuts and it was time to reveal the points. The Superb Owls had a solid 59 species in the time allotted and with a last minute addition of Greylag Geese the Gridiron Goatsuckers pulled ahead with 60 for the win. The goatsuckers will have little time to celebrate as plans are already being made for Super Bird 58 on Saturday February 10, 2024.