SOLD OUT!
We are excited to announce that our annual gala will benefit Houston Audubon's Bird-Friendly Communities program. This program aims to transform the greater Houston area into a thriving community that supports birds, butterflies and other pollinators while providing more accessible opportunities for people to experience the wonder and joy of birds.

Valet and garage parking available.
Skywalk located on third floor of garage. 
For more information, contact Zineera Seth, Development Events Manager, at (713) 932-1639 x 106 or zseth@houstonaudubon.org
---
UNDERWRITING OPPORTUNITIES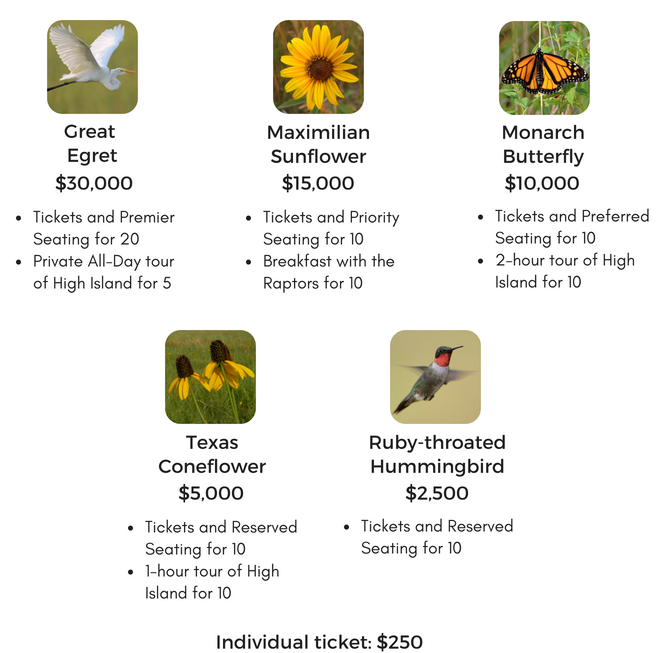 *Sponsor recognition ($2,500+): listing on event webpage, event program, Naturalist and e-newsletter.
 Gifts are tax deductible to the extent allowed by law.  Estimated fair market value is $135 per person.
---
HONORARY CHAIRS
Kathy and Clive Runnells
GALA CO-CHAIRS
Claire Caudill
Doris Durbin Heard
Janeen Judah
HONOREES
| | | |
| --- | --- | --- |
| The Garden Club of Houston |   | Don Verser |
| The Garden Club of Houston has played a key role in restoring, improving and protecting the environment through education, financial support and hands-on activities since 1924. The Club's dedicated members spend countless hours cultivating native plants, removing invasive plant species, planting native trees and creating traveling conservation exhibits. Generous GCH grants over the years have funded many conservation efforts, including scholarships, schoolyard habitat gardens, community vegetable gardens and educational brochures. We greatly appreciate The Garden Club of Houston and all that its members have done over the past 94 years for birds, bugs, plants and people. |   | Don Verser is a prairie conservationist who has devoted countless hours working on habitat restoration in High Island since 2006. Don's Drip at Smith Oaks Bird Sanctuary was named for him in appreciation of his hard work and pioneer spirit. Don discovered Deer Park Prairie and was instrumental in saving it. In addition, his pocket prairies throughout Houston highlight the interdependence between native plants, birds and insects. We celebrate Don for his accomplishments which serve as a blueprint for others to follow. |
EMCEE
Elizabeth Winston Jones
UNDERWRITERS
Great Egret
Kathrine G. McGovern
Maximilian Sunflower
Kathy and Clive Runnells
Louisa Stude Sarofim
Monarch  Butterfly
Alisa O'Leary
BP
Clare Glassell
Texas Coneflower
Caroline Callery
Avon S. Duson & Katherine and Frank C. Smith, Jr.
Flournoy Family
Friends of The Garden Club of Houston
Mary Gwen and Ben Hulsey
Beth Robertson
Ruby-throated Hummingbird
Blaine Adams and Patrick Falcon
Cindy and John Bartos & Becky and Sam Smith
Annie Benzon
Sara and Mark Bettencourt
Judy Boyce
Claire and John Caudill
Fred and Kassie Collins
Crawford Doherty Capital Management
Cherry and Nigel Curlet
Rebecque Demark
Cullen K. Geiselman
Gene Graham
Mary Grace and Dennis Hamill
Doris and John Heard
Marcie and Chris Hysinger
Louise Jamail
Jessica Jubin
Tonya and Jeff Judah
Ann and Tom Kelsey
Wendy and Mavis Kelsey
Eric and Isabelle Mayer
Fan and Peter Morris
Carol and Dan Price
The Swift Count Group
Anna and Tim White
Ann Wier Jones
Betsy and Jim Winn & Martha and Dick Wright
Paula and Bob Wynhoff
HOST COMMITTEE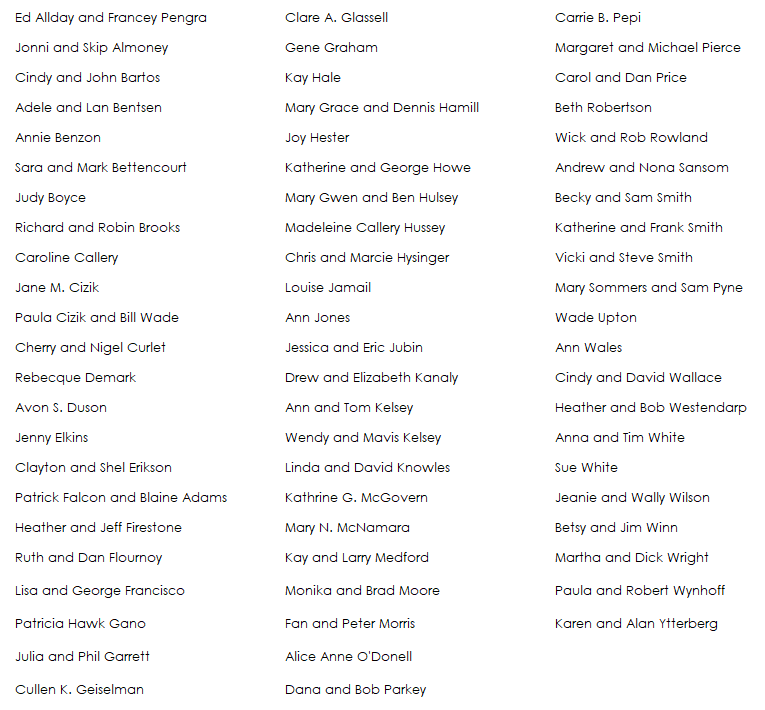 Bird photos by Greg Lavaty