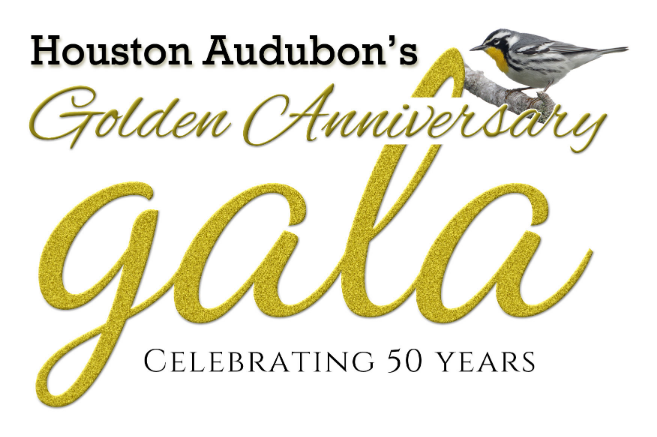 We are excited to announce our Golden Anniversary Gala, celebrating 50 years of bird and wildlife conservation. This year's gala is the most important fundraising event of Houston Audubon's landmark 50th Anniversary. Gala proceeds will benefit the organization in its work to ensure special natural places, critical habitat, and resilient bird populations will be a legacy for future generations to enjoy.
For the past 50 years, Houston Audubon has been the voice for birds, and we've served the Houston-Gulf Coast region through land conservation, habitat restoration, education and advocacy. At this year's gala, we will celebrate Houston Audubon's journey, its achievements, and the dedicated donors, volunteers, staff, and partners whose collective efforts have led us to being the regional avian conservation leader we are today. 
Our silent auction is now open! Final bidding will take place the evening of the gala from 6:30 - 7:30 pm. 


Complimentary valet parking.
For more information, contact Zineera Seth, Development Events Manager, at (713) 932-1639 x 106 or zseth@houstonaudubon.org
---
UNDERWRITING OPPORTUNITIES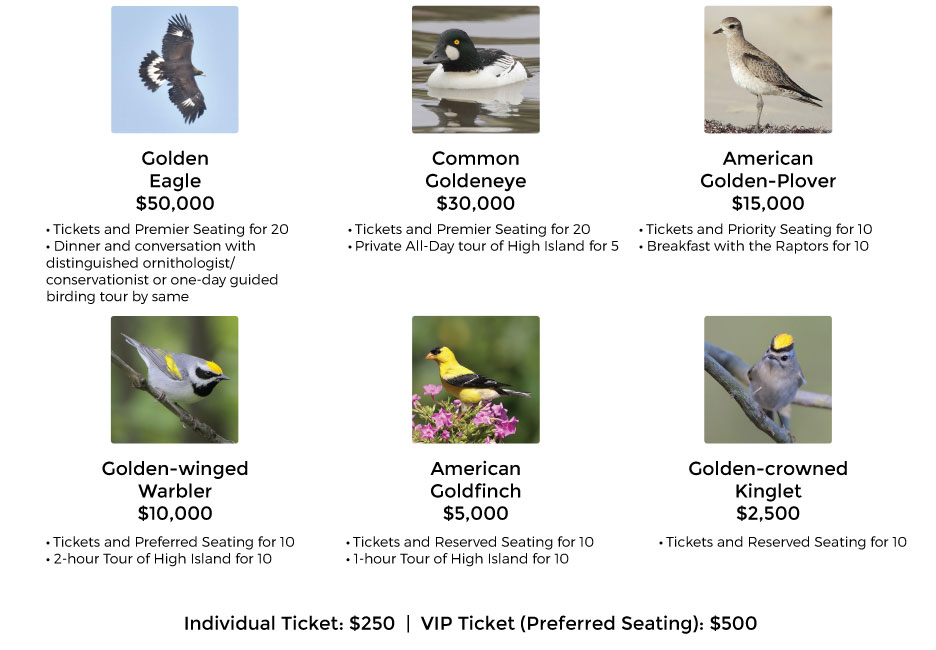 *Sponsor recognition ($2,500+): listing on event webpage, event program, Naturalist and e-newsletter.
 Gifts are tax deductible to the extent allowed by law. 
---
GALA CO-CHAIRS
Mary Carter
Gary Clark
UNDERWRITERS
Golden Eagle
Jane and Robert Cizik
Kathrine G. McGovern
American Golden Plover
Louisa Stude Sarofim
Golden-winged Warbler
BP Energy Company
Mary Gwen and Ben Hulsey
American Goldfinch
Cherryhurst House
Cherry and Nigel Curlet
Sarah Flournoy and Don Verser
Kay Hale
Ann Wier Jones
Ellen and Rachel Naegeli
Nancy and Clive Runnells Foundation
Diana Strassmann and Jeff Smisek
Heather and Bob Westendarp
Golden-crowned Kinglet
Blaine Adams and Patrick Falcon
Amegy Bank
Cindy and John Bartos / Becky and Sam Smith
Annie Benzon
Sara and Mark Bettencourt
Caroline Staub Callery
Claire and John Caudill
Kassie and Fred Collins
Rebecque Demark
Elizabeth and Stephen Gast / Anna and Tim White
Cullen K. Geiselman
Doris and John Heard
Barbara and Ed Hickl
Marcie and Chris Hysinger
Wendy and Mavis Kelsey
Jane and Joe Smith
Betsy and Jim Winn
Paula and Bob Wynhoff
HOST COMMITTEE