While the conditions surrounding COVID-19 compelled us to discover new ways to serve our community, the impact of this crisis has not been without cost. Closing the sanctuaries during spring migration due to stay at home orders was heartbreaking and led to significant losses in revenue.  Without the ability to implement proper social distance practices, our traditional interactive education programming and summer camps were also canceled.  We took these actions with the safety of the public and our staff and volunteers in mind, and now we're reaching out to you to ask for your help.
As you are able during these times, please consider making a gift today in support of the For the Birds COVID-19 Recovery Campaign. Your gift will be matched dollar for dollar through the generosity of Kathrine G. McGovern/The John P. McGovern Foundation. Please join us in support of birds with a special, tax-deductible contribution today—our work will continue uninterrupted with your help.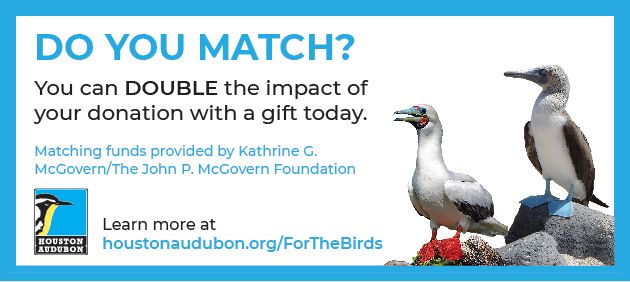 Donations by Check or Phone
Checks to Houston Audubon can be mailed to 440 Wilchester Blvd, Houston TX 77079. If you prefer to make a donation by telephone, please call our office at 713-932-1639 (office hours are Monday-Friday, 10 AM - 3 PM).