Bird-Friendly Communities
Bird-Friendly Communities is an initiative of Houston Audubon that aims to transform the greater Houston area into a thriving community that supports birds, provides more accessible opportunities for everyone to experience the wonder and joy of bird-watching, and patch by patch, yard by yard, park by park creates important corridors of healthy habitats for birds, butterflies, and other important pollinators.
Birdfriendlyhouston.org is live now and offers inspirational tips, plants lists, bird-friendly guidelines, birding advice, and whole host of resources to help make Houston as bird friendly as possible! The following topics are covered:
Native Plants for Birds and the Houston Audubon Natives Nursery: Plant native plants. They are the key to healthy habitat.
Bird-Friendly Yards: Be part of the Bird-Friendly Community by taking action to help birds.
Beyond Your Yard: Make a significant impact by working with your HOA, local park, or school.
Birding Primer: Learn birding basics like how to ID, where to go find birds nearby, and when to discover Houston bird phenomena.
 
Natives Nursery at Edith L. Moore Nature Sanctuary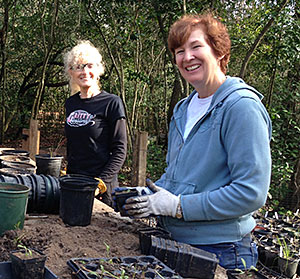 Natives Nursery volunteers
Houston Audubon's Natives Nursery at the Edith L. Moore Nature Sanctuary specializes in local native prairie grasses and wildflowers. The plants sold are grown only from seed collected in coastal prairie remnants in Harris or surrounding counties. These seeds were collected and planted by the hands of dedicated Houston Audubon staff and volunteers. The Natives Nursery fills a unique niche by offering native plants not readily found elsewhere.