Victor Emanuel Nature Tours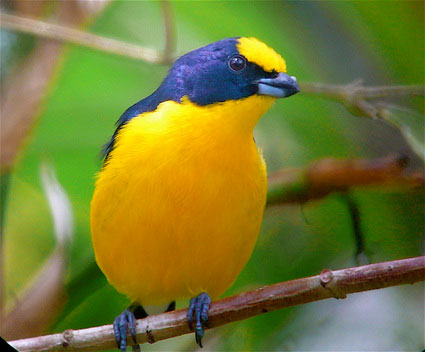 Thick-billed Euphonia by Barry Zimmer
Panama: Fall at El Valle's Canopy Lodge: Sep 29 - Oct 6, 2018
offered by Victor Emanuel Nature Tours and Houston Audubon
Panama is where Central America meets South America; the result is a stunning mix of biodiversity. Nestled in the crater of an extinct volcano and surrounded by jagged ridges and hills, the fabulous Canopy Lodge offers great birding and luxury accommodations. Situated approximately 60 miles west of Panama City in the picturesque El Valle de Antón, this lodge has it all. The forested peaks of Cerro Gaital Natural Monument loom over the valley and impart a deep sense of tranquility. The lodge grounds are teeming with birds. Feeders visible from the dining area play host to a parade of colorful and exciting species such as Rufous Motmot, Collared Aracari, Red-crowned Woodpecker, Flame-rumped, Crimson-backed, White-lined, Blue-gray, and Palm Tanagers, Red-legged Honeycreeper, Buff-throated and Streaked Saltators, Orange-billed and Black-striped Sparrows, and Chestnut-headed Oropendola to name a few.
Our lovely accommodations will be complemented by wonderful cuisine. We will travel by comfortable bus, with one or two days in 4×4 vehicles. Walking will be easy to moderate on good roads and trails. Climate conditions will be cool and breezy with some overcast and rain expected in the highlands, and warm and dry in the lowlands.
Price: $2,795

---
Houston Audubon's long-time travel partner, Victor Emanuel Nature Tours (VENT), is the largest company in the world specializing in birding tours. This year they will offer 140 tours to more than 100 destinations ranging from the Texas coast to the forest-clad Himalayan highlands of tiny Bhutan, to the huge expanses of Brazil's bird-rich Pantanal, and to Antarctica, Africa, and many places in-between.
Victor Emanuel Nature Tours offers departures for Houston Audubon members. The camaraderie shared among chapter members strengthens the chapter and provides an excellent opportunity to brainstorm program ideas and challenges. A more direct partnership benefit is a $500 donation to Houston Audubon's habitat conservation, education, and advocacy programs when an HA member signs up for designated tours.
On a personal level, Victor is a native Houstonian and calls the Upper Texas Coast his favorite birding place. He started birding the region when he was just eight years old. Victor is an Houston Audubon Advisory Board Member and has championed many Houston Audubon conservation projects.
For more information about upcoming trips, please visit their website at www.ventbird.com, contact VENT at info@ventbird.com
or call 512-328-5221 or 1-800-328-8368. Don't forget, please tell them you are a member of Houston Audubon. Happy birding