Birding Classes
With Glenn Olsen
Classroom location: Houston Audubon's Edith L. Moore Nature Sanctuary. 440 Wilchester Blvd., Houston, TX 77079. Telephone: 713-932-1639

Classroom sessions are normally held in the administration building which is the brick building you first come to on the gravel drive as you enter the sanctuary. On a rare occasion we meet in the log cabin, which is the second building.
Field trip locations: We will review all the details for the field trip in class. The instructor will be checking for bird activity the week of the class to maximize our opportunity to see birds. You will be provided info by email on what to bring and complete driving directions to our meeting location a few days before the field trip. 
Wintering Sparrows: November 19 and 23, 2019
Secretive and challenging to identify are what make this group of birds Fun. The Upper Texas Coast is a great place to see wintering sparrows. Learn the key principles of identification that will enable you to separate the 17 different species that are possible. After this class you will no longer call sparrows little brown birds, you will recognize them as sparrows.
Class: Tuesday, November 19, 2019 (7:00-8:45 PM)
Field Trip: Saturday, November 23, 2019 (7:30 AM - 3:30 PM)
---
Wintering Waterfowl: December 10 and 14, 2019
The Upper Texas Coast is an amazing area for wintering waterfowl. Each year we have thousands of ducks (24 species possible) and thousands of geese (5 species possible) and mergansers (2 species). While the identification of male ducks is often straightforward, the same cannot be said of the more cryptically colored females. Therein lie the challenge and fun of duck identification. We will learn techniques for separating the 24 species of ducks, the different species of geese, and the mergansers.
Class: Tuesday, December 10, 2019 (7:00-8:45 PM)
Field Trip: Saturday, December 14, 2019 (7:30 AM - 3:30 PM)
---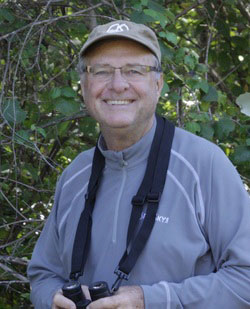 Glenn Olsen
Instructor
Glenn Olsen leads natural history and birding tours with GOBirding Ecotours and teaches bird identification, gardening for birds and butterflies, and nature-related classes through Rice University's Glasscock School of Continuing Studies, Houston Audubon, Katy Prairie Conservancy, and the Texas Master Naturalist program. He has served on the Houston Audubon Board as Vice President of Education and also served as an Audubon Warden monitoring colonial nesting birds in Rockport, TX. He is currently Region 8 Director for the Texas Ornithological Society. Two of his many other efforts towards conservation include monitoring endangered Attwater's Prairie Chickens at the Nature Conservancy's Texas City Preserve and co-founding the Wildscapes Workshop through the Native Plant Society of Texas (NPSOT) where he served as president of both the Houston Chapter and the State NPSOT. He has led field trips and/or given programs for meetings of the Texas Ornithological Society, Houston Audubon, Houston Arboretum, the Native Plant Society of Texas, Rio Grande Valley Birding Festival, Rockport Hummer/Bird Festival, Galveston FeatherFest, and other groups and festivals.  Glenn has led trips to such exotic locales as Ecuador, the Galapagos Islands, Amazon Rainforest, Costa Rica and the hottest birding locations in the U.S. Contact Glenn at h.glenn.olsen@gmail.com or 832-517-2478.
---
Testimonials:
Introduction to Birding Class:
The class and field trip conducted by Glenn Olsen was outstanding.  The program exceeded my expectations.  Mr. Olsen is a master.  He was able to patiently cater to a novice like myself and to those in the group with more birding knowledge and experience.  He showered us with his knowledge and love of birding and nature.  I learned so much.  It was my good fortune.  Thank you and the society for your association with Mr. Olsen.
-- Carol Devine
Waterfowl Class:
I want to take a second to say how much I enjoyed Glenn Olsen's - Waterfowl course last week. While the weather was less than ideal, the birds and beauty that I was introduced to far surpassed any inconvenient weather issues. Being a backpacker, runner, bicyclist, photographer, and general outdoor-ist, I was amazed to find out that I have missed so much in viewing birds in their natural habitat. I had looked at birds, but not really 'seen' the birds. Glenn's course opened my eyes to a world I had been looking past. I highly recommend any of Glenn's courses. I was at first a little intimidated by my lack of bird knowledge, not just compared to Glenn Olsen's (which was to be expected) but to the group in general. Glenn and the group of experienced birders, which was probably 75% of the group, made me feel right at home and were helpful and encouraging to this total novice. I walked away feeling that Birders are Good People and this will not be my last Audubon event.
-- Tim Brooking
Spiffy Sparrows Class:
I wanted to let Houston Audubon know what a wonderful experience Glenn Olsen's class and field trip were this last week. Glenn is a tremendous, patient teacher, and so very passionate about birding. Thanks to Houston Audubon and Glenn for a great learning opportunity!
-- Sherri Taxman